Increasing customer service quality in banking is hard? Not, if you're using the right tools! Read, how Belgium's fifth-largest banking institution, Argenta, used a chatbot to improve customer satisfaction. 
As Belgium's fifth-largest banking institution, the Argenta Group is known for its excellent customer service. In an industry where, on the one hand, high quality service is one of the most important aspects for customers, and, on the other hand, hard to achieve, the Argenta Group really stands out.
According to global data, Belgium has one of the lowest customer satisfaction rates for banking. Argenta proves, however, that it's possible to go against this trend. By introducing an AI-based chatbot, Argenta was even able to increase their ratings, and reach a customer satisfaction score of 95% in their contact center!
In this article, you will read:
Challenge: Helping overworked agents
Argenta's customer support team receives more than 20,000 messages per month. At this rate, answering these requests promptly and still ensuring a high-quality service for their customers started to become a challenge for the team of 23 agents. They weren't only overloaded and overworked with so many messages, they were also wasting valuable time on answering very basic and repetitive questions.
The three main areas where the agents were losing the most time, were:
Basic FAQs
Basic intent detection and data capture for specific transactional flows
Conditional data detection and capture for increasing daily limits
It became clear that Argenta needed a smart solution. Together with Chatlayer by Sinch and their implementation partner Campfire AI, they introduced a new "helper" to the service team: the conversational AI chatbot, "Charlie".
Solution: Helping agents and customers with smart technology
Charlie is Argenta's virtual assistant who lives within the Argenta mobile banking app and helps answer some of the most recurrent customer questions and complete transactions.
Charlie covers approximately 15% of all incoming questions. In fact, one of customers' most frequently asked questions and requested items is a new card reader. The batteries expire over time, and customers ask for a replacement. This question is easy for a bot like Charlie to recognize and answer. So, instead of bothering a live agent with this simple request, Charlie detects when a user is asking for a new card reader and responds with a data capture flow that captures the user's name, address, email, and other important information.
Charlie then forwards that information and the new card reader request to a specific team within Argenta, where they can check the request and prep the card reader for dispatch.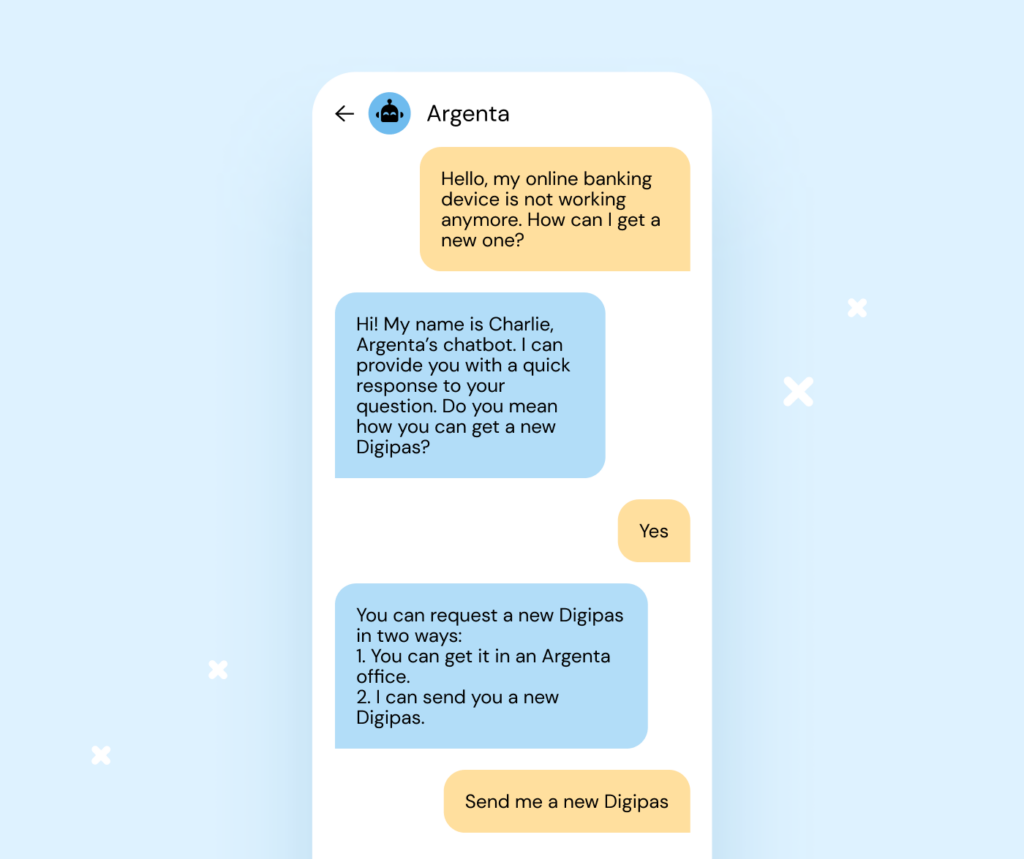 Succesful partnerships for the win
The key to this kind of smooth support that Charlie offers customers is the smart technology behind the bot. Aside from Chatlayer's conversational AI technology, Argenta's agents also use Hootsuite's platform Sparkcentral, a live chat platform for agents. It allows a seamless hybrid fall-back set-up between agent and bot.
In the end, bringing these two technologies together with the help of the experienced implementation partner Campfire AI is what makes Charlie so successful. It also shows the additional value that successful tech partnerships can bring to a company.
Find out how Hootsuite and Chatlayer by Sinch make humans and bots work together more successfully!
Result: Higher customer satisfaction with Argenta's chatbot
The new team member, Charlie, solved not only one, but two problems for Argenta: reducing the workload for agents, and meeting Argenta's high standards for customer support.
For one, the chatbot was able to fully handle 20% of incoming conversations, which saved 24 hours of work for the agents in the first one and a half month alone! It's important to note that if Charlie doesn't know an answer, the conversation gets routed to a live agent, maintaining, either way, the same high quality of conversation. This is a win-win for the customer and the support team because both save time!
Secondly, as a result of Charlie's great work, Argenta increased their customer satisfaction. As clients were getting help faster and in a more efficient way, Argenta's chatbot reached a customer satisfaction score of 80% on messaging channels and 95% in the contact center.
"This is important for companies that are active in a country that has multiple languages, like Belgium, for example, or for global companies that are active in multiple countries."
Ready to take your customer service to the next level?
More interesting articles about chatbots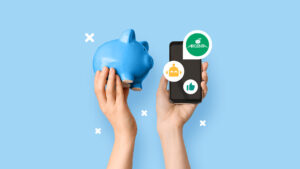 Business
Increasing customer service quality in banking is hard? Not, if you're using the right tools! Read, how
Read More »