What can AI chatbots in e-commerce do for your business? From driving sales to making customers happier… a lot! In this guide, we talk about the advantages of e-commerce bots and use cases, we show you examples, and give you the best tips on how to get started.
From groceries to e-bikes to swimming pools: there is virtually NOTHING you cannot buy online these days. As a result, many customers switched from shopping in brick-and-mortar stores to shopping online.
In the US, one of the strongest global markets for e-commerce, the 2021 annual e-commerce revenue amounted to 767.7 billion U.S. dollars. And even in Europe, the e-commerce revenue went from 406.25 billion US dollars in 2017 to 731.73 in 2021, while the number of shoppers increased from 225.2 million to 354.7 in the same time period.
These numbers are not surprising. Even if they are not stuck in their houses during a pandemic, customers love the convenience of being able to get whatever they want from the comfort of their homes. At the same time, they expect the same personalized service they get in brick-and-mortar stores but paired with the speed and effortlessness of the internet.
For small and large online retailers alike, these expectations can be hard to meet. AI chatbots in e-commerce can be the key to improving your customer service, speeding up processes, and keeping your expenses low. In this guide, we explore the advantages of AI chatbots in e-commerce, show you examples of chatbots in action, and give you useful tips for implementing a bot in your e-commerce business.
In this article, you will read:
Why do I need an e-commerce chatbot?
Customers expect online stores to answer their questions immediately, and at all times. Even with the best service team in the world, that's very challenging (and costly!) to do.
Chatbots can help you bridge that gap.
They are available 24/7.
They can answer frequently asked questions in seconds. AI chatbots can actually answer up to 80 percent of the most common questions successfully.
Chatbots are always friendly and patient.
It's easy for chatbots to handle peak hours or increased demand.
AI chatbots will help you meet your customers' demands, scale your business, all while keeping your costs low. That's also the experience AlphaPet Ventures has had. The e-commerce company for premium pet food is known for their personalized customer service. They decided to add a chatbot to their customer service because they noticed that answering customer queries by e-mail was too slow and impersonal. The chatbot solved both problems, says Leonie Steiner.
"Chatbots are a great mix between fast help and personal exchange."
Chatbots are not only useful to companies, but also to customers! 
67 percent of millennials say that they are more likely to shop if the website has a chatbot.
64 percent of internet users love that chatbots offer 24/7 support.
87 percent of customers find chatbots effective or very effective at resolving their issues.
Online retail stores have the highest acceptance of chatbots by customers.
On average, the customer satisfaction rate for chatbots is 87.58 percent. 
So, let's take a closer look at how you and your customers can benefit from chatbots.
Advantages of chatbots in e-commerce
Chatbots don't need to sleep, they don't get sick, and they never go on vacation. Instead, they are available to help your customers around the clock.
A more personalized customer experience
Chatbots exceed at gathering, retaining, and accessing data very fast.
For example: "What did this customer buy last time? Pet food! It's been two months, they must be running low, so let me offer to re-stock the item!" Or: "It's the customer's birthday soon. Let me offer them a special birthday discount!"
Customers will appreciate such personal customer service. In fact, they'll expect it! According to Salesforce, 66 percent of customers expect companies to understand their needs and expectations, while 70 percent say that personalization increases their brand loyalty.
Personalized service through chatbots will not only make your customers happier, it will also increase their spending. In a recent Statista survey, 63 percent of businesses said that personalization increased their conversion rates, and 31 percent of e-commerce business have noticed an increase in revenue.
According to Slideshare, 80 percent of consumers are more likely to buy from a brand if they have a tailored experience. 
Proximus, a Belgian telecommunication company, for instance, saw a 20 percent increase in their web shop orders after setting up an AI chatbot.
Reduce amount of abandoned shopping carts
The online shopping process is usually not straightforward. Users might go to one shop, check out an item, put it in their shopping cart, then decide to check if they can find the same product cheaper somewhere else or compare different products. This leads to abandoned shopping carts. According to Baymard, the shopping cart abandonment rate in 2022 is almost 70 percent.
Think about that! Seven out of ten customers are not completing their purchase, and you are losing revenue. Chatbots are a great tool to reduce the number of abandoned carts. You can set them up to send reminders that have not completed their shopping process after a certain period of time, and thus cut down on abandoned carts.
The return rate for e-commerce companies is more than seven times as high as for brick-and-mortar stores.
Chatbots can help you reduce the number of returns by
Gathering insights on returns, and helping you fix issues faster.
Automatically interacting with customers that want to return an item, and offer an exchange instead.
Making the return process easier (one of the key expectations of online shoppers) and providing a good customer experience that will make shoppers come back in the future.
Improve return on ad money spend
Creating online ads drives new customers to your website. That's great—if they spend money. But many times, they don't. Why? Because they might not find what they were expecting from the ad or are overwhelmed with all the offers they find, so they leave. That leaves you with a terrible return on ad money you invested. The solution? Set up a chatbot to guide ad leads through the shopping process.
Once customers end up on a landing page from an ad, a chatbot could welcome them, and offer help. You could even have the bot ask your customers questions or entertain them with a funny quiz to gather more insights and offer them tailored products. At the same time, this data will help you in the future to create better target groups for ads as well as more effective campaigns that will yield even better return on ad money spent.
While all your customers end up on your website, they might get there in very different ways. Maybe they subscribe to your e-mail newsletter and clicked on an offer. Maybe they were on their smartphones and clicked on one of your ads. Or, maybe, they were on the phone with one of your agents and accessed your site through their browsers.
Your customers have different needs and preferences, and you should meet them by offering them interactions on their preferred channel. This could be a web chat, a voice chat, or a messaging app. If you try to set this up with human agents, it will be very expensive. With chatbots, though, it's easy to create the same great customer experience on every channel, without breaking the bank.
If you integrate a chatbot in a messaging app, you can get even more out of the conversational commerce experience. Unlike a web chat where conversations disappear after they are solved, you can re-kindle an old conversation on a messaging app at any point.
This is an ideal starting point for chatbots to send reminders for a special deal, check back in to see if a customer needs to re-stock an item, or send out newsletters with interesting new offers.
Step it up with AI chatbots
As you can see, chatbots can already be very helpful for e-commerce, but AI-based chatbots can take your business to the next level. Imagine a scenario where the interaction between bot and human feels like an actual conversation. That's what AI chatbots can deliver.
Forget customers leaving your store in frustration because the chatbot just didn't understand the keyword they were using. Instead, they just tell a chatbot what they need, and the chatbot does not only understand what they want, but also answers like another human would. That's the power of conversational AI!
And customers will know the difference. Companies that use AI-based chatbots achieve customer satisfaction scores of over 91 percent! 
As AI chatbots have smoother interactions with customers and can understand their issues better than regular bots, AI chatbots can also solve more inquiries successfully. With the help of AI bots, companies report that they were able to double the workload and cut service costs by 30 percent.
In addition, there are a lot more use cases for AI bots in e-commerce than for regular bots, which will increase your return on investment.
Use cases of AI chatbots in e-commerce
Most companies might think of e-commerce chatbots in terms of customer service. However, there are many more use cases for AI chatbots in e-commerce along the entire customer journey.
Answer customer queries anytime
While brick-and-mortar stores will not always be open, and customers will understand that they have to come back during business hours, there is no such thing as a "closed" sign for online stores. In fact, a lot of users will probably browse your shop late in the evening after work, on weekends, or on holidays—because that's when they have the time to shop. And: they expect prompt, around-the-clock, personalized service.
AI chatbots can offer all of that. AI bots can answer most frequently asked questions successfully while providing a smooth customer experience.
You can also connect them to your CRM system to offer customers a more personalized experience.
If customers are already interacting with chatbots to ask questions or order an item, why not take it one step further, and let chatbots present useful links to product pages, special deals, or coupons?
Especially when using an AI chatbot, the bot will be able to understand much better what customers are looking for—and offer them the best incentive to shop.
The Dutch e-bike company VanMoof, for example, uses an AI chatbot designed by Chatlayer by Sinch that can not only answer customer inquiries 24/7, it will also guide customers, based on their questions, to the most suitable e-bike models.
Guide customers through the shopping process
This is a much smoother customer experience, and it will boost your sales.
AI chatbots can be great shopping assistants. They can pop up when needed, answer questions about products they are looking at, advise customers on the best offers, and guide them through the entire shopping process.
It's like having that great assistant in the store that makes sure that you leave with the best product. Those are the stores we go back to, so why not use chatbots to offer the same hands-on customer experience online?!
Once customers interact with chatbots as shopping assistants, your bots will be able to find out what they are really looking for. This doesn't only allow for a more tailored experience; it also makes it easier to upsell. 
Let's say a customer wants to get a new cover for their smartphone, but the bot knows that your shop is currently offering a special discount for headphones. The bot tells the customer about the deal, and the customer realizes that she actually also needs new headphones and gets them as well. In the end, the customer had a better shopping experience, saved money, and you improved your revenue.
Against popular belief, chatbots can be very endearing to customers. The average satisfaction rate after interacting with bots is 87.6 percent. Use that to increase brand awareness! The Indian mall complex, Orion Mall, for example, created a chatbot named "Genie" (like the ghost that fulfills wishes) that represents the brand's focus on customer satisfaction.
Help track delivery status
Once customers ordered something online, they can't wait to receive the package. So, instead of them having to go online and typing in an order number, you can set up a chatbot that can inform them about the delivery status much faster. It will save your clients time and improve their customer experience.
Schedule consultations or service appointments
This makes it easy for customers to schedule appointments and reduces the workload for Bizbike's service team.
These companies are using e-commerce chatbots to grow their business
Now that you have seen the advantages and use cases of AI chatbots in e-commerce, let's take a look at a few companies that are growing their business with bots.
Domino's: Being available on multiple channels
The pizza chain Domino's has one of the most sophisticated chatbot experiences. Their bot, Dom, is available on their website, Facebook Messenger, Amazon Alexa and Google Home, and even Slack, and Twitter.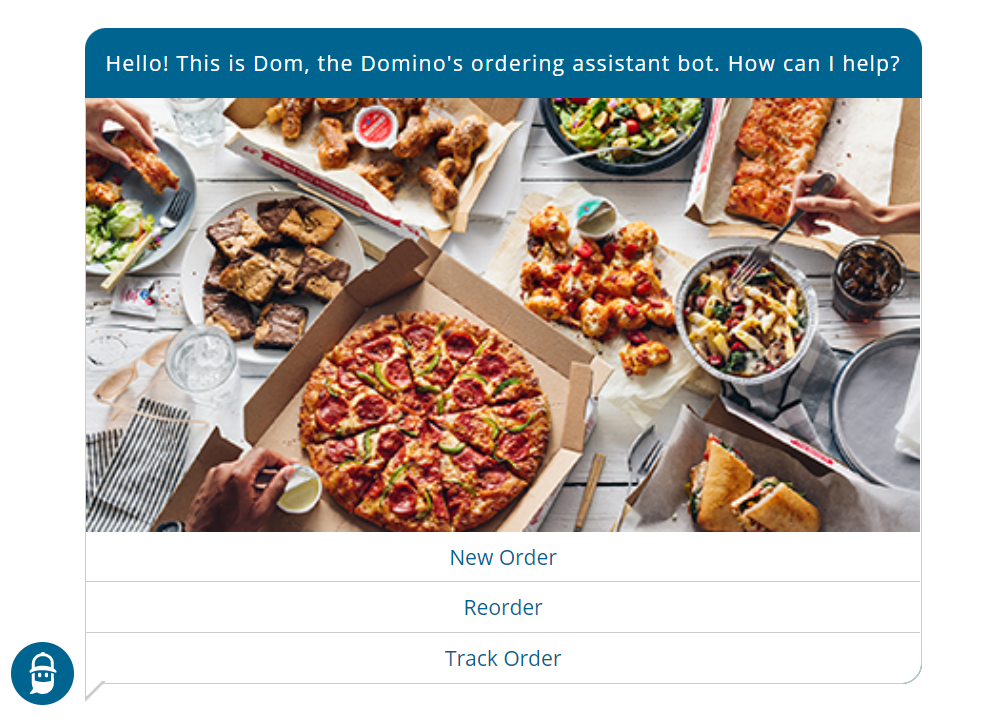 The bot helps users through the ordering process and will also remember previous orders to speed up the process in the future. You can even complete the payment through the bot.
With this seamless chatbot experience, Domino's keeps customers coming back.
Michael Kors: Making online shopping more engaging
The fashion brand Michael Kors offers a shopping bot on the Facebook Messenger by Meta. After establishing the location of the user, the bot proceeds to show the most current collection and the latest offers in the region. The bot also lets you take a fun quiz around the brand.
The shopping assistant makes it easy to browse clothes, interact with the brand, and makes the shopping experience more engaging.
Bol.com: Improve the experience throughout the entire customer journey
Bol.com is one of the largest online stores in the Benelux region, and in some places even more popular than Amazon! That's the ideal set-up for handling large amounts of queries with a chatbot. So, with the help of Chatlayer by Sinch, bol.com set up an AI chatbot named "Billie" on their website.
The bot can help customers with product questions, returns, and guide them through the shopping experience in a very engaging way. The bot also speaks multiple languages, which is important in the multilingual region. Thus, bol.com can ensure a smooth experience throughout the customer journey.
Tips for getting started with e-commerce chatbots
Because chatbots have so many use cases in e-commerce, you might want to start implementing all of them right away. That might be too much, and if there are issues, you are providing an overall bad customer experience! It's therefore better to define the most important use case for your business and start there.
It will allow you to test and improve the solution, which will then make it easier for you to scale later.
Work out what your chatbot should (and shouldn't!) do
For the best results, define your goals clearly, and set a road map for what the chatbot is supposed to do exactly (and what not). This will help clarify expectations and render the best outcome.
Setting up an AI chatbot for your online shop is just the first step. It's then just as significant to measure and analyze the results—and optimize the experience.  
Choose a high-quality solution that doesn't require IT resources to be set up
Integrating an AI chatbot into your e-commerce business can seem like a challenge at first, especially if you want to use the bot on several channels. However, there are ready-to-go solutions out there that don't require neither a lot of time nor IT skills to get you started.
Chatlayer by Sinch, for example, has developed a conversational AI chatbot for e-commerce that you can set up in minutes. At the same time, the AI technology behind it will guarantee your customers the best possible experience.
"With platforms like the one from Chatlayer, already one person can build a good bot."
Get in touch with our experts, and we'll guide you through the product, and show you, how you can get the most out of a chatbot for your e-commerce business.
More interesting articles about chatbots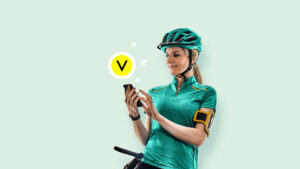 Business
Growing fast is something that most businesses aim for. However, this also comes with some challenges. That's
Read More »