How can human support agents help their customers 24/7 while avoiding long queues and quickly answering millions of questions? How is it possible for a contact center to be active on multiple communication channels like WhatsApp, Messenger, Twitter – all at the same time? The answer is simple: chatbots.
Our phones have become part of our everyday life, containing a bunch of apps to make that same life easier and more enjoyable. But us humans are, and always will be, social creatures, so it shouldn't be much of a surprise that messaging apps are the ones that are being used the most. This dominance is set to stay in the near future, as industry leaders like Mark Zuckerberg, CEO & Founder of Facebook, confirmed. He believes that messaging apps will remain the most popular way people for people to communicate:
"As I think about the future of the internet, I believe a privacy-focused communications platform will become even more important than today's open platforms", said Mark Zuckerberg while describing the future role of messaging platforms like Messenger and WhatsApp, compared to Facebook."
A recent study by Sensor Tower shows that WhatsApp and Facebook Messenger are indeed two of the most downloaded apps in 2019, preceding every other social media channel (except for TikTok). To give you an idea about the impact of these kind of apps: the most popular shopping apps, Amazon and Wish, combined only represent a third of the download volume scored by WhatsApp last year. This does not change when looking at the daily hours spent in-app, as Simform reports, where communication platforms account for 16,4%, compared to the combined 10% of time spent by users browsing online on shopping apps.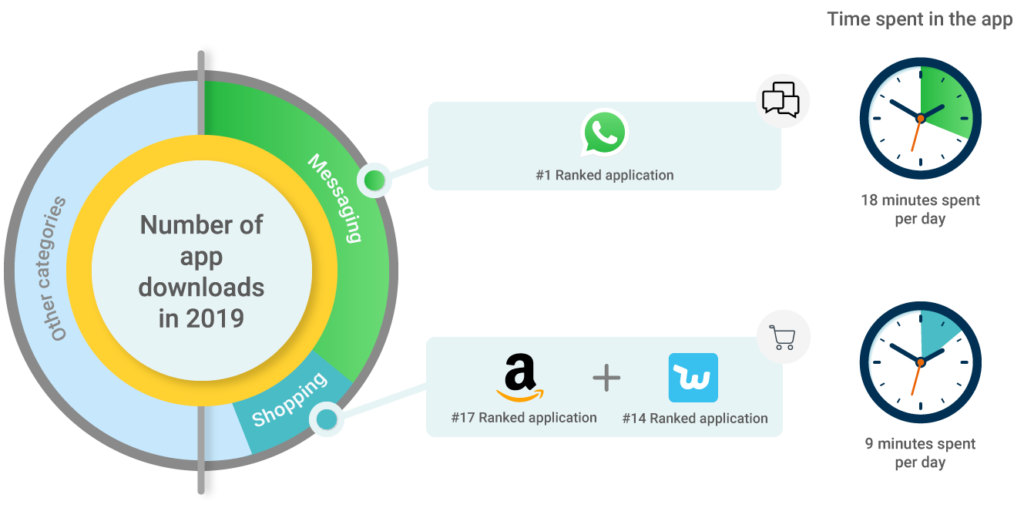 Such trends expose the importance of communication in our daily life. But this doesn't just happen on a personal level. Businesses that integrate these platforms into their customer support strategy, as a way to connect and engage with their customers, are doing better than those who don't when it comes to general customer satisfaction.
Nowadays it is not only common, but even expected by customers to be able to reach out to companies using the platforms they also use in their daily lives.
Unfortunately, in the current business landscape there are still companies that act on the opposite direction of such trends. Companies that still put all their budget on social media advertising without focusing on helping their customers are missing the opportunity to create long and lasting personal conversations. Brands that roll out broad marketing campaigns to convert purchase intentions might lose trust from their audience, since they are not showing a true interest in solving customer problems. The questions that arise when businesses want to personalize their customer service are related to costs and scalability of these solutions. The global reach of popular brands includes millions of customers that span across different time zones and call for customized experiences that constantly push the boundaries of service excellence.
How can 

companies 

live up to their customer

s'

 

expectations

,

 




without exceeding their 

budget?
The answer to this modern question cannot be found in solutions that were built before the globalization wave and its overload on information. Writing endless pages of FAQs may seem like a good idea, but they often overwhelm customers who want their specific problem to be solved quickly. So, what is the answer that can help businesses succeed and guarantee happy customers?
Chatbots.
Chatbots are a scalable and customized solution that can handle the many, many daily requests, providing the right information to quickly support customers across times and places. 
44% of consumers said they would prefer to interact with a chatbot over a human customer service representative.
(Aspect Software Research, 2018).
Chatbots allow businesses to support their customers 24/7 across different messaging platforms, from WhatsApp to Facebook Messenger, and the Chatlayer.ai platform makes it easy to set up. But what are the benefits of integrating a customized chatbot into an organization's contact center? Well, there are plenty:
✓ Consistent communication across all popular messaging channels;
✓ Reduced customer churn, thanks to a more efficient digital support;
✓ Better reporting & analytics to constantly improve upon users' feedback;
Chatbots should no longer be a niche technology, since customers nowadays expect standards of assistance that require scalable solutions. From healthcare to financial services, including retail and telecom, nearly every industry is experiencing a digitalization of their services and has to prepare for changing customer needs. To win the market and deliver a positive customer experience, the implementation of chatbots needs to be quick and successful. An intuitive platform like Chatlayer.ai, with success stories collected from over 3 years of building chatbots, guarantees a smooth transition to better support and satisfied customers.
 Now it's time to prove how far you are willing to go to deliver a better service to your customers, since: average companies will answer users' calls, but only an exceptional company will answer their questions. 
Which company do you want to be?