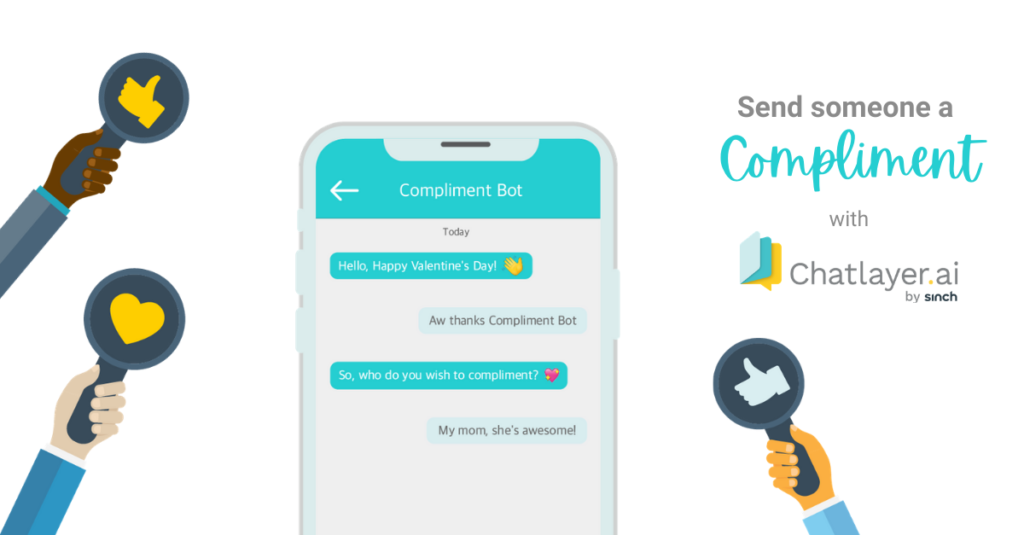 Put a smile on someone's face!
It's a strange time to be celebrating this year's Valentine's Day. With so many people either being too together or alone, connecting with a loved one isn't always so easy. We'd like to help you.
Thanks to our Compliment Bot, you can easily send a compliment or cheerful message to someone who you've been thinking of. Tell a friend who much you appreciate their support, leave a compliment for your mom because, well, she's your mom, or tell a colleague how well they've done on that latest project.
Don't be shy, all you have to do is start the conversation with a 'hi'. After sharing your message, you can choose to leave your name or stay completely anonymous. It's up to you!
PS: Don't forget to check your own compliments, perhaps someone already left you one? 
Test the bot here! 
Hi there, we hoped you enjoyed using the Chatlayer Compliment Bot – Powered by Sinch 💪 Ready to build your own bot?
Start your free demo today at 
Want a bot yourself? Get in touch!
[hubspot type=form portal=4891601 id=b6f5965c-b915-4082-95de-0cd8816d8169]