AI chatbot, virtual assistant, voice bot, or WhatsApp chatbot – the variety of automation in communication is huge. What we are questioned quite often: what can chatbots really do today and of course why are you the best solution to create an AI-Bot? 
So as start of the year we looked into the upcoming chatbot trends, evaluated them for you and derived them in 5 predictions for 2022. In addition, we picked out the cherries from our product roadmap to present to you.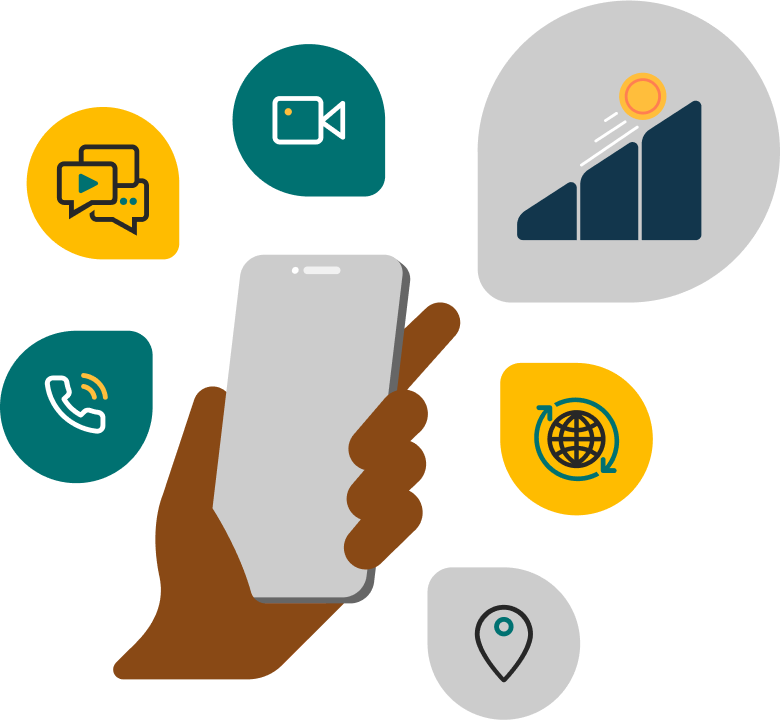 Chatbot trends and predictions 2022
1. Chatbots are great for 90% of the population!
With chatbots – because having a conversation is so intuitive – it really allows businesses to unlock a whole new audience, people that aren't as digitally well-versed. People who are creating chatbots are maybe sometimes without knowing, technically very strong and into digital innovations which are coming up, but this is not the average. For these "tech nerds," chatbots are often not a great experience. And often typically start pushing new technologies they're trying out to their 'digital' audience first. But for bots that don't really make sense when you think about it. Bots work better for people that aren't digital experts because they have "just" the expectation to get answers to their questions. For the majority of users, that aren't as technical well versed, chatbots are very important technology. What we expect to happen in the future, is that chatbots are pushed more in the direction to this customers. And as mentioned in our former article, there are a few convincing arguments
why 95% of companies need chatbots
.
Chatbots happen on the places where customers go to. And that place differs a lot between countries. During the last year we saw a great demand of WhatsApp Chatbots, especially in the South America and India! Following this user behavior will
boost your Customers Experience
! And that doesn't even mean more effort. The whole industry and of course Chatlayer makes it easy for business to create one really good AI-powered virtual assistant and use it for several text and voice channels. 
👉
To get the right start with using WhatsApp as customer communication channel we recommend
MessengerPeople
with whom we are joining forces on the topic of Customer Engagement via messaging apps.
A lot of the bots out there today basically provide the same exact experience to everyone. Everyone runs through the same flow, with very little room for changes. In reality, of course, no 2 people are alike, and that means no 2 conversations should be alike. There are a few ways to make a conversation really personal:
Level 1 – Having Integrations: Use data you have on the customer e.g. did a customer just buy a bike, but it wasn't yet delivered? They probably have a question about their order. So if you have this information use it. All you have to do is get

 the right integrations & connections with your CRM, ERP, software to use your customer data to make the conversation relevant for the customer from the first message you send to him. He will be more than pleased if he or she starts a chat and you as a business sent a first message which says "Hey, I saw you just ordered a bike, how can I help you?". This is where conversational messaging is headed.

Level 2 – Segmentation: Changing the answers based on a customer segment, which means: 

For example, someone who's 18 is used to different language from someone who's 70. If you want to get information across, it's important to talk to a customer in the way that they understand it best.

Level 3 – 100% Individualization: Not just focus on the segment but also the individual user. So every individual user gets totally individual answers. There are already first steps in this direction. 

We're already analyzing the sentiment of users to give a specific response, but getting this really right will take a few more years.
4. Bots become more conversation-driven
A lot of the bots being built today are essentially based on guesswork. The persons which are building the chatbot often don't have the information they need to know: which questions customers ask exactly and how they ask them, which words do they use, etc. This means that even with the best technology, your bot doesn't match with what your users need from it. 
On the other hand, companies have a lot of data from actual conversations between agents and customers. They should also use this data to improve conversations. What I expect to happen is that these conversations will be used more and more to also build chatbots, meaning bots will be faster to build & more accurate. And that's crucial to create a great bot experience! 
5. Conversational Design and AI go hand in hand
The relationship between AI and Conversational Design should be very close. For the ones who don't know what conversational design is, it is like UX design for conversations.
You look therefore on the conversation flow. For a good conversational design, you have to make sure that the bot understands the user very well. That is where the AI part comes in. So my recommendation for Conversational Designer is, to make sure that you have basic knowledge of AI and use that in your job. It will make your job much easier. These two things are very close to each other, they shouldn't be separated.
The upcoming superpowers of Chatlayer in 2022
🎙️📲 WhatsApp Voice Messages
Following the user behavior, WhatsApp Voice Messages are getting more important. This should and will be followed in future customer communications. And that is what is already working on. The future chatbots built by Chatlayer will also handle WhatsApp Voice Messages and provide the personalized and right information to the customer.
💁‍♀️❤️🤖 Combination of AI and agents
Agents will get supported by suggestions for answers they could give the customers. This AI is trained by already given answers and it learns from the choices of the agents, which answers are helpful for the daily doing of the agent. This not only helps save time and thus resources, but also provides insights into the recurring needs of users.
⚙️ Deeper connectivity to omnichannel platforms
From our perspective as a company that creates conversational AI chatbots for companies that can be run on virtually any channel it is key that chatbot building tools like ours are strongly connected to innovative omnichannel platforms. We selected MessengerPeople has partner due to their broad portfolio of messaging apps united in one platform.
So, we can offer our existing and future clients conversational messaging AI supported virtual assistants on WhatsApp, Facebook Messenger, iMessage, Instagram Direct Messaging and other ones. This deep integration will with the
Messenger Communication Platform of MessengerPeople
will happen this year. 
Interview about Chatbot Trends & Predications 2022
Ready to start your chatbot project 2022? 
Download our whitepaper to use our practical, real-world advice for picking the best AI bot platform!
You want to get learn more about the potential of WhatsApp and other messaging apps in customer communications?  
We recommend you take a look at the
Messenger Playbook – free download
! It includes information about the business solution from WhatsApp and over 25 success stories from different industries like, e-commerce, retail, B2B, insurance, HR, tourism etc.