87% higher conversion rate, 70% service cost reduction, 91% satisfaction rate: conversational AI chatbots can have a huge impact on your business. But how can you implement them in your company, and what will they be able to do for you? In the following, we look at ten companies that are using AI chatbots successfully. Get ready to be inspired!  
Successful companies work smarter, not harder. This includes recognizing how smart tools can help you save time, money, increase your revenue, and, at the same time, make customers and employees happier.  
Sounds like pretty high expectations? Sure! But what if we were to tell you that a single technology can meet all these goals? Chatbots!  
That's right! Conversational AI chatbots drive success. They increase conversions, save time, and increase customer satisfaction. The following ten examples show how companies are implementing conversational AI chatbots successfully, and how the technology has helped them grow their business. Dive in and get inspired!  
In this article, you will read:
What is a conversational AI chatbot?
Simply put, a conversational AI chatbot is a bot that uses artificial intelligence (AI), natural language processing, machine learning, and conversational design to engage in more natural and complex conversations with humans.  
Unlike basic button bots, conversational AI chatbots are smart virtual assistants that enable automated conversations and can engage in very human-like conversations via text or voice.  
For instance, conversational AI bots can:  
take food orders in a restaurant

answer frequently asked questions 24/7

 

take over onboarding processes for clients

guide customers through an online payment process

find out what customers want, before guiding them to the right department

talk to customers on virtually any channel, from your website to WhatsApp to SMS

speak hundreds of languages out of the box

 
And these are just a few examples!
While conversational AI bots cannot replace humans, they can help human agents by taking over tedious and repetitive tasks, organizing information, and helping customers instantly.  
How does this look in practice? And what are the concrete benefits companies get from implementing bots? Let's learn directly from ten companies that are already using conversational AI chatbots successfully.  
Bizbike: Making customers happy
Bizbike is Belgium's biggest e-bike provider. As a hugely popular e-bike company, they were faced with a high number of daily queries from customers who wanted to use their service. The problem: Bizbike's customer service team ended up answering the same basic questions over and over again and didn't have time to deal with more complex customer issues.  
So, Bizbike was looking for a way to help their service team, while at the same time answering customer questions quickly and satisfactorily. That's when Bizbike decided to implement Chatlayer's conversational AI chatbot.  
Chatlayer's bots work with easy-to-use templates that are ready to go within minutes. At the same time, businesses can adapt these templates to fit their individual needs. 
For Bizbike, the solution was highly successful. Bizbike was able to save more than 40 hours per months through effective automation, and at the same time have engaging conversations with their customers. Bizbike was able to increase their NPS score from 54 to 56, which means that 62 percent of their customers are actively promoting conversational chatbot solutions and the Bizbike service!   
European Commission: Helping thousands of travelers
Discover EU is an initiative led by the European Commission that helps 18-year-old EU citizens discover Europe by train. As many of these young Europeans are first-time travelers, they naturally find themselves in many situations where they require help on their trips. 
After launching the initiative, frequent questions, such as: "What do I do if I missed my train?" or "Where does my train leave from?" ultimately were becoming challenging to handle by the staff of support agents during traditional office hours and across different time zones.  
As a solution, a Chatlayer chatbot was developed in order to answer the travelers' most common questions, which ended up helping thousands of young European explorers on their journeys.
Yellow Class: Helping customers faster
Yellow Class is an online education platform in India that offers live and engaging hobby classes for children. Their popular classes attract many new customers who want to learn more about the service. Because of the high number of queries, Yellow Class started to look for an automated solution to handle these questions.  
Together with Chatlayer by Sinch, they developed a WhatsApp bot with various reply buttons to help answer the most frequently asked questions faster. More complicated requests were transferred to human agents.  
With the chatbot solution, Yellow Class was able to assist more than 35,000 users and complete 150.000 conversations, a big AI chatbot success!
iFood: conversational chatbots help with onboarding of new staff
iFood is an online food ordering and delivery platform based in Brazil. It dominates about 80 percent of the Brazilian online food delivery market, and has only gotten more popular since the Covid-19 pandemic.  
With growing demand and an increasing number of deliveries, the drivers' customer service at iFood started facing new challenges. They were receiving more calls from drivers who needed assistance during their deliveries. Trying to help the drivers in a timely manner became more difficult, more time-consuming, more expensive, and came at the cost of driver satisfaction. 
In order to not only improve the customer service for their drivers, iFood implemented Chatlayer's Conversational AI Chatbot on most relevant messaging apps, such as WhatsApp and the website. Here, the chatbot helped register new drivers and help with the onboarding of new delivery staff.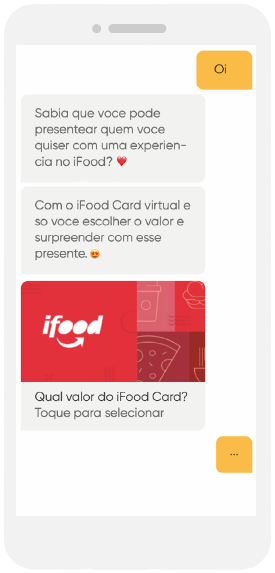 As a result, the bot was not only able to solve technical and logistical issues, but it also received a high satisfaction score of 91 percent from delivery drivers. 
Foyer: Handling requests in over 100 languages
Foyer is a world-leading insurance and wealth management company. With many requests coming in 24/7 in different languages, Foyer needed an automated solution to both, help their customers and relieve their employees from constantly answering the same questions.   
With Chatlayer's conversational AI bot, Foyer was able to answer 80 percent of incoming customer requests successfully, in 125 different languages.  
Belfius: managing over 2,000 claims per month
The Belgian insurance bank Belfius is handling thousands of insurance claims—daily! As Belfius wanted to be able to handle these claims more efficiently, and reduce the workload for their employees, they implemented Chatlayer's AI bot.  
Belfius customers just tell the bot what happened, and the bot is then able to categorize what type of claim each case is about, before handing it over to the human agent best qualified to deal with it. With the insurance bot, Belfius can now manage more than 2,000 claims per month. This is the equivalent of five full-time agents taking the requests.  
The AI chatbot drove success by saving time and increasing the conversion rate by 87 percent, compared to the old claim forms.  
Rawbank: AI chatbot succes with over 50 different use cases
Rawbank is a 2.1 billion revenue bank in the Democratic Republic of Congo. With their large number of clients, the bank's support team was handling thousands of messages per month. The problem: it wasn't easy for Rawbank to just set up a chatbot to handle FAQs, as their customers' queries are very diverse, and regular chatbots would have had a hard time understanding the customers' real intents.  
Therefore, Rawbank worked with Chatlayer by Sinch to develop a customized chatbot. The conversational AI chatbot can identify intents in over 50 use cases, and thus, handle 4,000 of requests per month—a huge success!  
Proximus: help employees focus on what really matters
The HR department of the Belgian telecommunication company Proximus was dealing with roughly 9,000 queries per year, which kept the agents busy, but also prevented them from dealing with what really mattered: preparing their workforce for future challenges.  
As a solution, Proximus implemented three conversational AI chatbots for customer service, sales and HR that were able to answer FAQs.  
The chatbots were able to handle 76 percent of inquiries, freed up time for the HR department, and increased sales by 120 percent.  
Salud Digna: Helping millions of people during the Covid-19 pandemic
Salud Digna is a nonprofit organization, dedicated to providing affordable health services across Mexico.  
During the Covid-19 health crisis, the organization's call centers were overwhelmed by trying to help millions of people get access to affordable lab service and testing. Salud Digna was looking for a solution that could reduce the number of incoming calls for their agents, while still enabling people to get access to critical medical services as quickly as possible.  
The organization decided to launch a conversational AI bot on their WhatsApp channel—with amazing results.  
Not only did the number of calls go back by 50 percent, but customers were also able to get help faster and ended up feeling less frustrated and more supported. 
AI chatbots for your success: Get started now!
These examples show how useful and versatile chatbots can be.
From reducing the workload for you employees, to making customers feel heard to saving costs and driving sales: conversational chatbots will have a significant impact on your business.  
Just getting started with conversational chatbots? Then check out our Conversational AI Playbook! It's the perfect starter's guide with many insights and examples for launching a conversational AI chatbot that'll build your success! 
More interesting articles about chatbots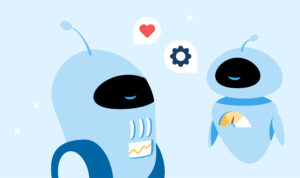 Chatbots
We've all had them: bad chatbot experiences. But, what can you do as a company to avoid
Read More »