Live chats for websites improve customer experience, customer satisfaction and drive conversions. Most companies already use the channel, and the market is projected to keep growing. In this context, chatbots are drastically improving the efficiency and response times of customer service and save resources. In this article, you will learn why you should offer a live chat, how to power it with chatbots, and how other companies use them. 
46 seconds is the average response time for a live chat request in 2022. 46 seconds also happens to be the average time you need to figure out what exactly a company is trying to sell on their website. 
The question is, would you rather want customers wasting their time on your website and getting annoyed because they can't find what they are looking for, or would you want them to shoot their questions instantly and get a response in less than a minute? 
Chatbots as a customer service solution provide exactly that. Fast answers. They can take care of recurring requests easily and offer customers 24/7 support, without exhausting company capacities. Especially AI bots offer significant advantages.   
In this article, you will learn everything you need to know about live chats for websites and why chatbots, and especially AI bots, are the perfect virtual assistants for your customer support.  
Here is everything you need to know about live chats
A live chat (or webchat) is a chat window that your website visitors can use to talk to your company. Normally, it is located at the bottom right of the page. In general, companies use this software in customer care and for first-level support to provide customers quick answers to their questions.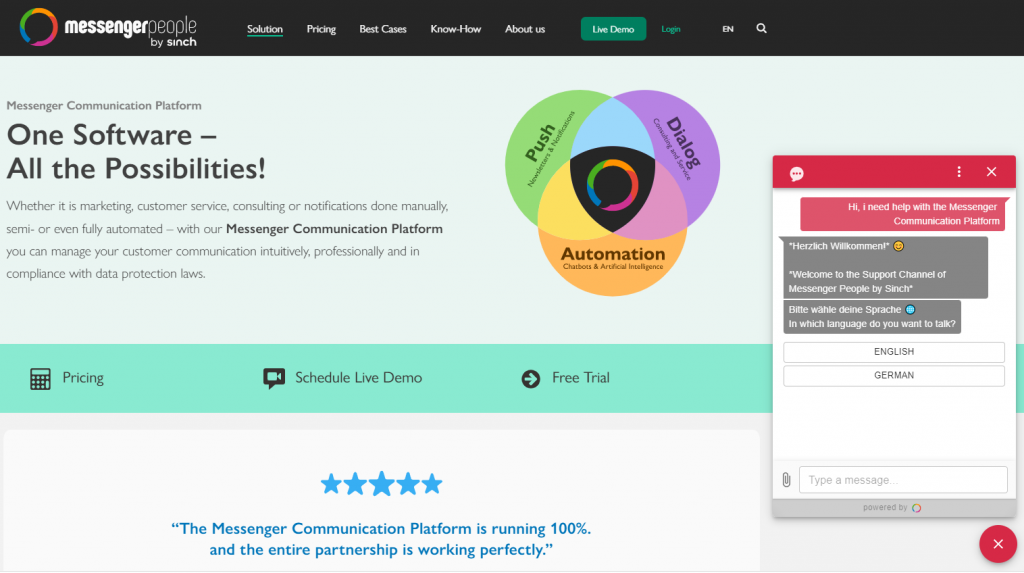 Companies also use the live chat to contact website visitors first. This may seem a little intrusive, but if you couple it with a trigger, such as your customer spending a certain amount of time on a single product page, your support offer may be exactly what the customer was looking for.  
By stepping in and showing the customer that there is help if they need it, you let them feel your presence and make the customer feel more secure. 
Another clever way to use live chats is to let customers know about interesting products and offers when they visit certain pages. If there is a special discount on hoodies for example, and the customer has selected that category or searched for this exact term on your website, you can pretty much bet the house that they are interested in your discount.  
How does a live chat work?
A visitor, who is most likely a customer, can start a conversation with you by clicking on the chat window, button, or widget (or, however the live chat may be implemented on your page). 
The chat request is then ready to be answered by you. Many companies use chatbots to take care of the first-level support to save human capacities. 
It is entirely up to you whether a human agent or a chatbot should answer. Having a chatbot in place, however, does offer some advantages, such as receiving and answering the requests immediately.  
Make sure that your chat tool has a handover function, so that customer chats can be seamlessly forwarded to a human agent. 
Visitors to your website will benefit from live conversations during their visit. The goal is to enable people to quickly locate answers to their queries and difficulties. 
With a live chat, your company can: 
retain visitors on the page, 

give customers a more personalized experience, 

keep visitors informed about their interests,

encourage people to interact with your brand.
Over the last five years, the number of businesses who employ this channel on their website has steadily increased. 
How many businesses use a live chat?
An increasing number of businesses are adopting live chat as a channel for customer communication. The live chat software market for example is projected to reach a worth of over a billion dollars by 2023, and it is still growing.  
Current studies suggest that this channel will grow by 87 percent in the next 12 to 18 months. 
The three biggest use cases for live chats are  
sales;

 

customer support; 

 

marketing.

 
For B2B companies, 85 percent of them use live chats for sales, 67 percent for customer support and 54 percent for marketing. 
In comparison, 74 percent of B2C companies use live chats for sales, 66 percent for customer support and only 31 percent for marketing. There is a similar pattern for messaging apps.  
Is a real person behind live chats?
Companies are quite flexible in this approach. While many companies choose to use a chatbot for pre-qualification and providing first level support before handing the request over to a human agent, some prefer to direct it to an agent immediately. 
Visitors of websites are actually very open to having conversations with chatbots. According to Acquire, 85 percent of them wouldn't mind interacting with a bot.  For them, this is a lot faster and more convenient than having to talk to a human agent. 
Many businesses utilize chatbots for answering recurring questions in first-level support. Rather than having an employee that is answering the same questions over and over, using a virtual assistant can save human capacities. If a request needs human attention, it is no problem to hand it over seamlessly at any point. 
What are live chat benefits? What are disadvantages?
Live chat benefits for your customers
The biggest benefit of a live chat for customers is that this is their preferred way of communicating with a company. A survey conducted by eConsultancy showed that live chat has the highest customer satisfaction rate out of all channels with 73 percent. E-mail scored 61 percent and phone only 44 percent. 
One reason why customers prefer live chats are fast replies. The average response time of live chats is only 46 seconds.  
Another survey by Invesp, showed that 79 percent of respondents found the immediate replies of live chats to be the most important benefit of the channel. Other advantages that customers see in web chats are the possibility to multi-task while getting support and the efficiency of the chat.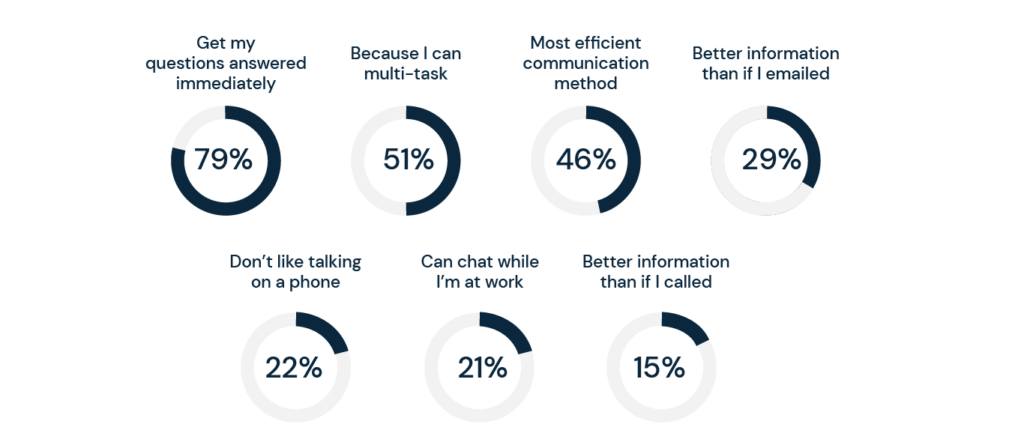 Live chats can also be of great help while customers shop on a company's website. 
The possibility to ask questions is literally right on the page they are visiting. This means that with a live chat customers can get answers while they are looking at products.  
But there are not only benefits for the customers. Businesses can also gain a lot from using live chats on their websites. 
Live chat benefits for your business
The biggest advantage of a live chat is its cost effectiveness: it can save time and it can optimize customer service.  
First, live chats are a faster way of communication than e-mail or phone calls. Second, with a live chat, agents can handle multiple inquiries at once. Adding chatbots to your live chats can make handling responses even more efficient. Chatbots can handle 79 percent of routine questions, which leaves, agents more time to deal with more complex queries.  
Live chats are also great to build a sense of personal interaction. A chat window sends the message of openness and your company's willingness to have a conversation with its customers. Consequently, patrons feel more supported during their customer journey. A well-maintained and functioning live chat generates trust in your business and gives it a good reputation.  
But there are not only positives when it comes to offer live chats. 
First, all the conversations on live chats are anonymous, which prevents your company from retrieving customer information for marketing actions or re-activation. 
Offering a live chat also means that your customers will certainly use it outside the working hours. If you don't have a chatbot set up, that can answer inquiries instantly and offer solutions, a live chat may cause disappointment, when visitors can't use it late at night or on Saturdays and Sundays. 
You should also consider your customer support agents. A live chat means a lot of work for them and the pressure of providing quick answers and solutions. 
Moreover, answering recurring questions repeatedly can be stressful as well, unnecessarily blocking your employee's valuable time. 
And should your company receive a lot of customer requests, is the current amount of customer support agents even enough to handle all of them?  
Should I use a live chat for my website?
Yes, you should—if you go about it the right way! Because, even if there are some disadvantages, a live chat is possibly the best messaging channel when it comes to live support. Most interested customers end up visiting your website at some point in their customer journey and most of them will have some questions. Live chat is the easiest way to reassure customers in their information or decision phase. 
Keep in mind that a big part of your visitors will surf your website, when none of your customer service agents will be working. A chatbot is a key factor to make sure customers receive a direct reply. 
Of course, most of the questions customers have can easily be answered with an FAQ page, for example. But finding the FAQs, and then finding the answers you need can take time, and even get complicated. So complicated, that customers will simply look elsewhere. A chatbot, on the other hand, can function as a "talking FAQ list" and solve problems directly and without human help.
So before thinking about a live chat, ask yourself, whether a live chat without a chatbot will have the right impact. 
💡 These 9 companies achieve higher conversions and happier customers at the same time using AI chatbots
How can chatbots improve your live chat?
A chatbot is a software that emulates human talk, written or spoken. Bots that interact via text are called text-based chatbots and bots that can process human speech are called voice bots.  
Learn more about the differences between text-based chatbots and voice bots.  
Another way to differentiate a chatbot is through the technology used to develop them. In this way, there are two main categories:  
Rule-based chatbots

(also called click-bots). These are virtual assistants that use pre-programmed answers and work with a selection of pre-defined keywords. They were the first chatbots to appear. However, the nature of their technology is somehow limited and can result unsatisfactory for companies wanting a more advanced customer communication. 

 

AI-based chatbots

. Bots that use a myriad of systems, such as natural language processing or machine learning with a focus on providing great conversational experience through c

onversational design

. These are

more

sophisticated chatbots

, developed to understand humans and to sound like one. 
How can chatbots improve your live chats?
By creating an automated conversation, chatbots help businesses to optimize their communication with customers while allowing customers to get their solicitations answered in a faster way.
 Learn why linguistics is so important for an AI chatbot.
They can improve the efficiency of a live chat by providing accurate answers as soon as the queries come in. AI chatbots perform even better than rule-based chatbots because they are superior at understanding the many ways that customers ask similar questions.  
As a live chat is one of the first interactions that your customer will have with your brand, you want to make sure that your business will make a first good impression. This is possible if you answer questions in an efficient and fast way. And a chatbot can provide that! 
In addition, with the 24/7 availability offered by bots, customers do not have to wait until an agent is live. 
Customers with a better user experience are more likely to use your services again, leading to increased brand loyalty. Happy customers also tend to recommend your business and to leave good reviews, and thus not only increase your brand awareness, but also improve your image.  
With chatbots you can also bring the initial assistance of a live chat to other communication channels, such as messaging apps. This allows your company to offer more possibilities —beyond your website —for customers to get in touch with you. 
AI bots can also help your sales department. Thanks to machine learning, an AI bot can take over from past interactions with a customer. And it doesn't stop there!  By connecting the bot to your CRM, it can also use a customer's saved preferences to suggest products, recommend deals, and so much more. In fact, a lot of companies, report that through adding virtual shopping assistants (chatbots) they see big improvement in purchase conversion.  
To sum up: live chat and chatbots work together to give your customers a superior customer service experience! 
This is how companies use chatbots successfully for their live chats
Companies that use chatbots with their live chats, can benefit greatly from the technology, as the following examples show. Both, the European Commission and Bizbike developed their own chatbots using conversational AI chatbots from Chatlayer by Sinch and have seen great success. 
The European Commission: Available 24/7 for customers
Discover EU is a European Commission-led initiative that encourages 18-year-old EU citizens to travel around Europe by train. Because many of these young Europeans are first-time visitors, they will undoubtedly encounter situations where they will want help on their journey. 
Following the beginning of the project, questions such as "What do I do if I miss my train?" and "Where does my train leave from?" were frequently asked. Eventually, the staff of support agents found it difficult to handle these queries during typical office hours and across time zones.  
A Chatlayer chatbot was created as a solution to answer travelers' most common inquiries. The chatbot offers travelers real-time support via live chat on their website. As a result, it ended up assisting thousands of young European explorers on their excursions.  
"In the first month, the chatbot solved more than 700 questions, and handed over approximately 150 questions to a live support agent."
Bizbike: 30 percent of live chat requests managed by a chatbot
As the largest e-bike company in Belgium, Bizbike needed a solution with quick replies and high-quality customer care to handle the volume of support inquiries that a business with 100,000 e-bikes on the road receives. 
They decided to integrate the AI chatbot from Chatlayer by Sinch in their live chat on their website. Bizbike customers use the chatbot to arrange maintenance or repair appointments, plan a delivery, and schedule a test ride for a bike, among other things.
Bizbike's chatbot made a huge difference for the company! It: 
manages 30 percent of the requests without any human support

 

saves more than 40 working hours per month

 

keeps consistent communication with the customers

 

increased the Net Promoter Score (NPS) by two Points

 
Be there for your customers 24/7 with Chatlayer's AI bots
With Chatlayer by Sinch's market leading chatbot platform, customers can build AI-based chatbots in just a few minutes–no coding skills required! With over 125 languages supported, the bots developed with Chatlayer's technology can cover large parts of the world, and even offer many ready-to-go industry templates.  
The accurate natural language processing (NLP) enables real conversations with customers, even when there is no agent available.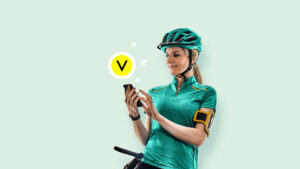 Business
Growing fast is something that most businesses aim for. However, this also comes with some challenges. That's also what
Read More »