Yes, grocery shopping can really be a lot of fun! The French supermarket chain, Intermarché, managed to bring the excitement back to their shoppers… by implementing a conversational AI chatbot.  
For most of us, grocery shopping is a chore. After all, going to the store, making sure you get all the items on your list, and then taking all your groceries back home, is not exactly the epiphany of a fun task. Unless… you make it fun!  
That's exactly what the French supermarket chain, Intermarché, did, with the help of a conversational AI chatbot. In the following, we'll explain how they managed to do that, and why conversational AI bots can have such a positive impact on customer engagement for stores (even yours!). 
Intermarché chatbot: turning the chore of grocery shopping into fun
When Intermarché started in 1969 (under the name of EX Offices de distribution), grocery shopping was a very different experience.  
For one, it was much simpler. You didn't have as many products to choose from, which sounds like a disadvantage. However, research shows that people can feel overwhelmed by having too many choices. It's actually one of the reasons why grocery shopping has become more stressful for many consumers throughout the years.  
Shopping was also more straight-forward. People knew what to get at the store. And if they wanted a change, with fewer products on the shelves, it was easier to get inspired, and try new things. That is also what made the supermarket runs more fun back then.  
For stores, that shift is a problem! If customers feel stressed when they shop, they spend less time in the store. This means they'll buy fewer things, and aren't as willing to check out new products. All of this affects the shopping experience, and the revenue of the grocery store.  
How Intermarché's chatbot got customers engaged
However, as an innovative company, Intermarché was determined to bring the fun back to grocery shopping, without having to take away all the great product choices they offer their customers. So, Intermarché came up with a forward-thinking way to make grocery shopping more engaging: a conversational AI chatbot. 
With the help of Chatlayer by Sinch, they integrated a recipe generator bot in their newsletter that, through AI-powered conversations, was able to inspire customers to try new custom recipes. The results were impressive! The bot did not only reach engagement rates of 59 percent, it also made Intermarché really stand out as a brand—in an industry where differentiation in customer experience is extremely hard to achieve.  
How was Intermarché's chatbot able to boost engagement?
These engagement numbers might at first seem surprising for a chatbot. And that's because most of us have only interacted with very basic rule-based chatbots. Chatlayer's conversational AI bot, in contrast, is built on technologies like artificial intelligence, NLP, and conversational design.  
The result is a chatbot that is not only able to understand customers better, but also engage them in smoother conversations. And that makes all the difference! Conversational AI chatbots:  
lead to a more engaged audience, with response rates of

up to 90 percent

 

can answer up to 69 percent of frequently asked questions

 

save 30 percent in customer service costs

 

save companies up to US$ 300,000 per year

 

double your conversions

 
And these types of results can be seen across all industries, from delivery to insurance to HR.  
These companies used chatbots to grow their business, reduce costs, and make their customers happier
The Brazilian food delivery giant, iFood, for instance, implemented a conversational AI bot designed by Chatlayer by Sinch, and was able to automate their onboarding process for new delivery drivers AND reach a satisfaction score of 91 percent.  
In a similarly successful chatbot integration, Belgian insurance bank, Belfius, was able to manage more than 2,000 claims per month—the equivalent of five full-time agents taking in requests.  
The leading insurance and wealth management company Foyer saw equally impressive results when their conversational chatbot solution allowed them to offer HR support 24/7, and increased employee satisfaction.  
These numbers show the power that conversational AI chatbots can bring to your business as well.  
Getting started with a conversational AI bot requires no coding skills
While the results conversational AI chatbots can deliver are great, many companies might be hesitant to implement one because it sounds very complicated. The truth is, though: it really isn't!  
The solution developed by Chatlayer by Sinch requires no coding skills to be set up. There are also pre-designed templates for many industries that make it very easy to set up your first chatbot in minutes.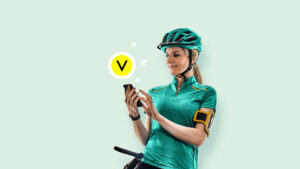 Business
Growing fast is something that most businesses aim for. However, this also comes with some challenges. That's
Read More »