Growing fast is something that most businesses aim for. However, this also comes with some challenges. That's also what the e-bike brand VanMoof experienced. When their business took off, they needed to scale their service fast, but without increasing costs. Together with Chatlayer by Sinch they found the perfect solution: a conversational AI chatbot!
When the two Dutch brothers, Taco and Tiers Carlier, founded VanMoof in 2009, e-bikes were still a futuristic vehicle in most cities. Since then, their popularity has exploded, and VanMoof is now the world's fastest-growing e-bike brand.
The fast growth came with some challenges for the innovative company: how can we still offer the personalized customer service that our clients love, without dramatically increasing costs? The answer: a scalable and customer friendly AI chatbot.
In this article, you will read:
Challenge: keep up with growing number of customer queries
VanMoof is a growing company, with currently more than 200,000 riders globally. As they were selling more e-bikes around the world, VanMoof also started receiving more questions from customers. Since VanMoof is located in the Benelux region, their agents handle queries in multiple languages.
The rise in recurrent questions therefore presented a double challenge for the service team: keeping up with the increased number of questions, while still offering personalized service in the customers' preferred language.
"As we were growing as a company, we received more inquiries, and needed a scalable solution. However, we still wanted to offer a personalized service, without having to invest in more customer service agents. That's when we decided to implement a chatbot."
How to grow your mobility business with conversational AI
Examples, use cases, and KPIs from the micro mobility industry
Solution: VanMoof implements AI chatbot for scalable customer care
When analyzing the incoming questions, VanMoof realized that most of them were recurring and easy-to-answer questions that could be automated. This was one of the main reasons why VanMoof started thinking about implementing a chatbot solution.
They knew that by automating these inquiries, they'd be able to support the customers faster and in multiple languages, without losing the personal touch, and without the need to grow their customer service department proportionally.
In order to implement a scalable, personable, and multi-language solution, VanMoof partnered with Chatlayer by Sinch. Together, they implemented a conversational AI bot named "Boost" (in honor of one of their speed buttons on their bikes).
VanMoof implemented the chatbot Boost as part of their website, and the bot went live within three months of mapping out the project.
Results: Automating 70% of customer queries
Boost can handle more than 70% of customer queries in four languages, and helps prevent many handovers to live chat agents. Of course, when necessary, the chatbot also makes sure that the riders get a smooth transfer to an agent. If that's the case, the agent already has the name, e-mail, frame number, open orders, and more details about the customer.
This handover of information from the bot makes sure that the agents are already prepared when they start talking to a customer and can provide a quicker answer.
With Boost as their conversational AI solution, VanMoof has improved its customer experience and scaled its customer service while keeping costs low.
As VanMoof is always looking for ways to improve its customer service, their next step is to implement Boost in their rider's app.
"With the chatbot, we are able to handle a lot more questions in different languages than before, without having to increase the number of agents."
Ready to scale your business?
More interesting chatbot stories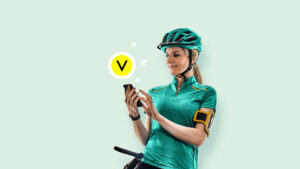 Business
Growing fast is something that most businesses aim for. However, this also comes with some challenges. That's
Read More »