More bikes, fewer cars, smarter vehicles: people are changing the ways they are moving around cities—and chatbots are a big part of that transformation. They help urban mobility companies make our cities smarter, greener, and healthier. Find out, how!
Think back about five years ago. Did you imagine that electric vehicles, shared bikes, and smart public transportation would become a common sight in our cities? Probably not! In some places, it's not even unusual to see self-driving cars or flying taxis anymore.
Interestingly, it's not mainly federal governments driving this switch, but cities, urbanites, and committed companies. And chatbots play a big part in how urban mobility is changing around the world.
In this article, you will read:
Chatbots in urban mobility are driving the four biggest trends
With more than 500 megacities in the world. inhabited by over 20 million people, most large urban centers are facing congestions, shortage of space, parking problems, noise and air pollution, and an overall lower quality of life.
It has become clear that the way we have moved around in cities for the past decades isn't work anymore. This realization has led to several big changes in urban mobility. These are not only propelled by new ideas, but also by new technologies, such as chatbots. In fact, four of the biggest urban mobility trends are driven by chatbots. 
E-bikes have become one of the most popular ways to get around cities. Especially in Europe, the e-bike market has really taken off. From 2014 to 2019, the number of sold e-bikes in Europe has tripled.  
As a fast and fun way of transportation, e-bikes have started replacing cars in some European countries, like Denmark or the Netherlands.  
Cities support this trend by expanding their cycling infrastructure. And start-ups and established bike retailers alike have come out with a large variety of new high-quality e-bikes to meet the growing demand. Chatbots play an important role in this development.  
Belgium's largest e-bike provider, Bizbike, for example, was looking for ways to improve its customer service and manage the large number of inquiries. With the help of Chatlayer by Sinch, they launched a chatbot that helped them provide faster answers to their customers and streamline queries for a higher quality service.
With the chatbot, Bizbike was able to fully automate simple questions, issues and requests. The e-bike provider is now managing 30 percent of all interventions with the chatbot. As a result, they did not only save more than 40 hours per month, but they also improved the quality of their customer service, with 62 percent of customers now actively promoting Bizbike's service
Making shared mobility more convenient
The "sharing is caring" idea has really taken off in the context of shared mobility. Why? Because it makes a lot of sense! Studies show that, on average, car owners, only use their vehicles one hour per day. As this is not efficient, mobility companies and cities have launched shared mobility services, such as shared e-scooters, car sharing or bike sharing.
Shared vehicles offer a greener alternative to privately owned cars, and they can also help reduce congestion in cities. Barcelona is one city that recognized the potential of shared mobility very early on and is now a booming market for shared mobility start-ups like Reby and GOMEEP. Like Bizbike, these start-ups also count on chatbots to improve their services.
Shared mobility and chatbots
GOMEEP offers a variety of services, from renting e-bikes and e-scooters to private riders to providing whole fleets for businesses. As it became increasingly difficult to deal with all incoming queries in a timely manner and still provide top service, GOMEEP implemented a WhatsApp chatbot to automate the process.
Making food delivery more accessible
Initially forced by the Covid-19 lockdowns, delivering food to their customers has now become a popular option with restaurants. Foodies love to receive dishes from their favorite restaurants without having to leave the house. And as more people are working from home, they welcome the effortlessness of getting their food delivered to their door on their lunch break.
Because many delivery companies and restaurants don't want their services to increase the congestion in cities, many of them use bike deliveries—yet another trend in urban mobility that has been supported by chatbots.
Chatbots, urban mobility, and food delivery
Brazil's largest food delivery platform, iFood, noticed two things when they started offering bike deliveries. They needed more delivery staff, and the new delivery staff needed more support. As the delivery staff grew, iFood decided to automate some processes to be able to assist drivers faster.
With an AI-powered bot from Chatlayer by Sinch, iFood automated the registering of new delivery staff, some onboarding processes, and their customer service.
Making public transit more popular
In many cities around the world, public transportation is not an attractive option. Suboptimal routes, long waiting times, and outdated vehicles are some of the reasons why city dwellers don't like to ride public buses or metro trains.
At the same time, getting more people to use public transport, would cut emissions, congestions, and transportation costs. So, how can cities make public transportation more popular? With AI-based chatbots!
The Hong Kong Mass Transit Railway (MTR), for example, launched an in-app chatbot to personalize its communication with riders. The chatbot offered riders help to find their way at an unknown metro stop by offering instructions on how to get from a stop to a destination.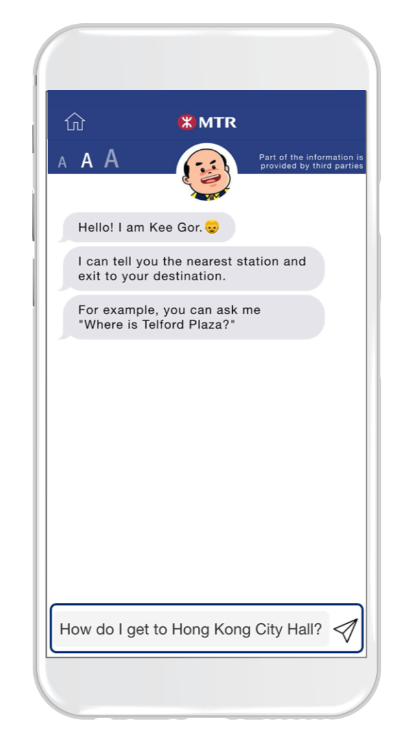 Since then, Hong Kong MTR has expanded on the idea of helpful chatbots and launched a pilot program with a fleet of five robots at the Kai Tak station. Finder-T, Guider-T, Checker-T and two Cleaner-Ts support the MTR staff by helping with different tasks, such as answering riders' questions.
The idea is to use these robots to support the staff and gather information from riders that will help make public transportation more attractive.
Chatbots are part of our uban future
Clearly, urban mobility and chatbots go hand in hand. They are therefore not only a great support for mobility providers and customers, but they also help make our cities smarter, more sustainable, and more livable.
Find out how chatbots can help your urban mobility company to be a successful part of this change as well. Our team of chatbot experts has developed an AI-based chatbot for the e-mobility industry that is easy to use and can help you and your customers all the way along the customer journey. 
More interesting articles about chatbots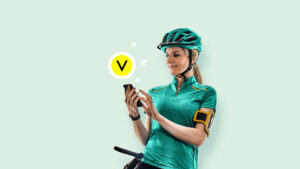 Business
Growing fast is something that most businesses aim for. However, this also comes with some challenges. That's
Read More »