The online food delivery industry in Brazil is booming! From small restaurants to large delivery platforms: food businesses in Brazil are moving online and going mobile, and so are their customers. The driving force behind this trend? Conversational solutions like messengers and chatbots!
When the pandemic first hit in 2020, many Brazilian restaurant owners were facing the same problem: people stopped eating out. According to a Google mobility report, visits to retail and recreational locations, including restaurants, had dropped by 35 percent. On the other hand, demand for food delivery went up. So, restaurants started pushing their online services.  
This was basically a no-brainer, because, in fact, online food delivery was already popular in Brazil before the pandemic. From 2017 to 2020, food deliveries almost doubled.  
Even if the pandemic didn't start the trend, it definitely expedited it. From 2020 to 2021, restaurant deliveries increased by 25 percent across all platforms. Experts expect this growth to continue, with a predicted global annual growth rate of 9.42 percent. By 2026, the market volume could reach up to 4.89 million US dollars.  
Why online food delivery is so popular in Brazil
It's interesting to see that while food delivery from restaurants is very popular in Brazil, food deliveries from aggregator platforms like iFood, UberEats, or Rappi are also growing at a very fast pace.
With several restaurants listed on one platform, an easy ordering process, and competitive delivery rates, they have become the go-to-choice for many Brazilians when it comes to ordering their food online.  
Brazilians are mobile first
It's actually not surprising that online food delivery is so popular in the South American country as Brazilians have been quick to adapt digital technologies and services over the past years, especially when it comes to mobile use.  
Currently, 99 percent of internet users in Brazil are accessing web services through their cell phones. In 2018, Brazil ranked as the fourth largest market when it came to app downloads, with a total of 7.3 billion new installs. The three most-downloaded apps in Brazil are WhatsApp, Google and Facebook.  
Mirroring this trend, food delivery apps have also grown in popularity in Brazil. In 2019, the mobile app platform Jampp recorded a 246.4 percent year-on-year growth of food delivery apps.
The most popular food delivery apps in Brazil are iFood (72 percent market share), UberEats (eight percent) and, interestingly, WhatsApp (five percent).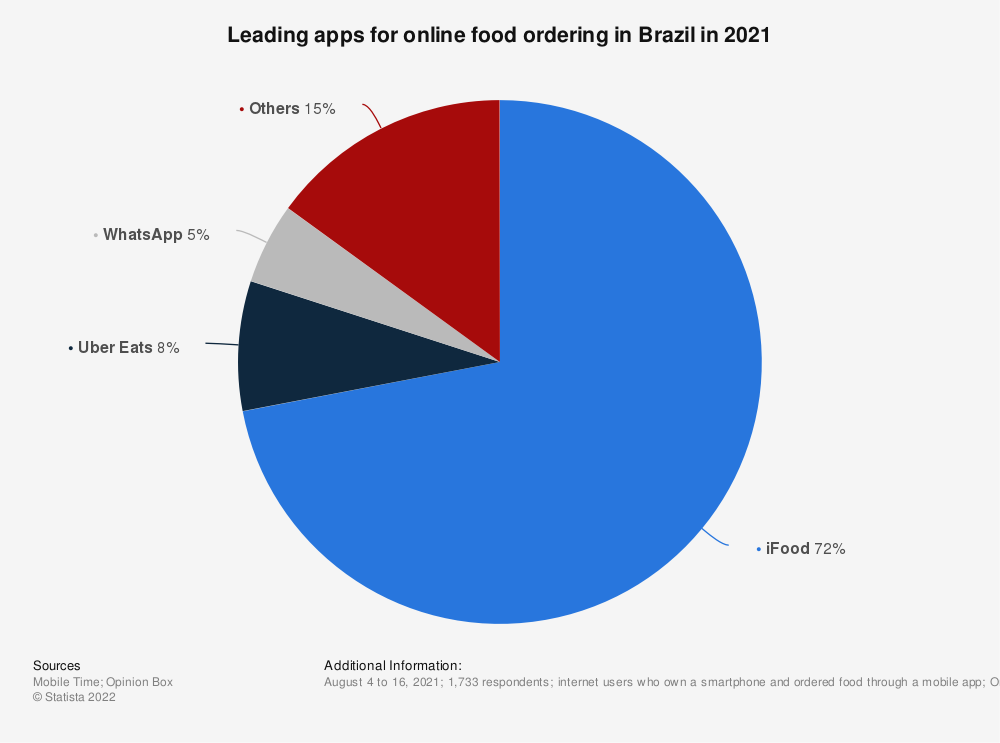 iFood dominates food delivery market
iFood's popularity comes as no surprise, as it is the country's biggest delivery platfrom with 80 percent market share. Its competitors Rappi and UberEats each only reach ten percent market share. This is expected to be slightly redistributed this year, as UberEats has recently decided to withdraw from the market.  
WhatsApp on the other hand is the app of choice for many restaurants for communication with their customers. After all, it is the most-loved app in Brazil.  
Growing pains of online food delivery industry in Brazil
However, with all this movement and expansion in the food delivery industry in Brazil, there are also some growing pains.  
The increasing demand in Brazil for online food delivery services came with some challenges for the industry, especially for bigger platforms like iFood. They suddenly had more clients, had to hire a growing number of drivers, and many new business partners came on board that all needed more support.  
Clients were asking questions about the ordering process, about the delivery status of their food, or had questions about gift cards. Delivery drivers, on the other hand, needed support with their online registration process, with accessing delivery data, or with their routes. And, finally, business partners, needed help with digital onboarding processes.  
To streamline all of these incoming requests, reduce the workload for employees, and improve customer service for clients, drivers and business partners, smart communication solutions were needed.
As an industry leader, iFood decided to tackle these issues twofold, by:  
meeting their customers on the channel they were using (WhatsApp!), and

 

improving their business processes even more by using a chatbot.

 
iFood, WhatsApp and the benefits of the messenger for online food delivery
Technically, there is no need for iFood to use WhatsApp for food orders, as they already have their own in-house ordering app. However, given the popularity of the messenger in Brazil, iFood decided to give it a try. They wanted to meet the customers where they were already placing food orders: on the WhatsApp messenger.  
The WhatsApp business API actually offers several options for food delivery companies, which is why a lot of restaurants and customers in Brazil like to use it for that purpose. Outside of receiving food orders on WhatsApp, companies can also:  
answer delivery status updates

 

show customers where the delivery driver is in real time

 

check on payment status

 

send special offers

 
In 2020, iFood rolled out a beta test in Guarulhos, a city about 15 miles outside of Sao Paulo where customers were able to place their orders directly on WhatsApp. The response was very positive!  
So, iFood decided to expand their WhatsApp usage beyond just receiving food orders. Together with communication solution specialist Sinch, iFood launched a marketing campaign for their WhatsApp customers. 
The surprising result: even with a higher investment cost, iFood was able to have 38 times more sales conversations on WhatsApp than on any other channel, with the same marketing campaign. Simply put, Brazilian customers respond extremely well if companies meet them on their favorite communication platform—WhatsApp.  
Chatbots in action: reducing cost and increasing customer satisfaction
Driven by this success, iFood went even further, and worked together with the conversational AI experts from Chatlayer to launch a chatbot. The goal was to improve their customer service: with clients, drivers and business partners.   
Choosing a bot solution to enhance the customer service experiences makes a lot of sense because chatbots can:  
take over tedious repetitive communication tasks,

 

answer frequent questions quickly, and therefore

 

help customers faster while at the same time reducing the workload for employees.

 
This makes conversational AI bots an ideal first contact for customers. On the one hand, the bots can solve a lot of customer issues right away and help clients faster. On the other hand, service agents will be able to focus on helping customers with more complex issues. To sum it up, chatbots can form a great support system for businesses. 
For iFood, the Chatlayer solution allowed them to improve the customer service throughout their entire delivery process, from registering drivers to onboarding partner restaurants to answering customer questions.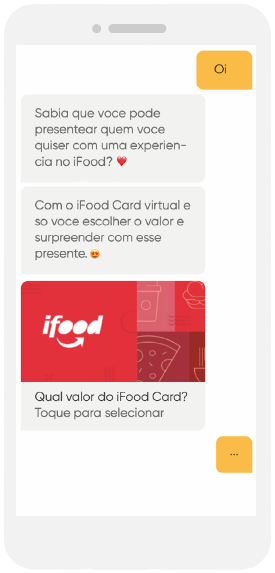 As a result, iFood was able to:  
reduce the workload for human customer service agents,

 

cut delivery service costs by 70 percent, and

 

increase customer satisfaction. 

 
This shows how conversational solutions are the key to engaging with Brazilian customers in the food delivery industry.