Happier customers, less stress for your team, and a higher revenue for your business: customer service chatbots can really boost your business. Find out how you can use conversational AI bots to improve your customer service drastically.  
What differentiates one business from another? It's not the products you are selling or the marketing you are doing, it's the customer experience. Especially with more global competition in almost any industry, it's not your product or your services that set you apart from your competitors, but the experience the customer has with your brand.  
A key component of that user experience is your customer service. 
In this article, you will read:
Advantages of customer service chatbots
Customers that have a good experience with a company's customer service, are more likely to return in the future, and recommend your company. Customers with a bad experience, on the other hand, will not only stop buying from you, but they will also leave negative reviews online, so the negative effect on your revenue is two-fold.  
Investing in customer service also makes sense from a larger business perspective. Depending on the industry, acquiring a new customer can be anywhere from five to 25 times more expensive than retaining an existing one.   
In other words: high-quality customer service will improve your brand's image, reduce costs, and increase sales. For most companies, none of this is new. But what can you do to improve your customer service, and get the most out of it? That's where chatbots come in!  
Chatbots cannot replace human consultations, but they can improve it, and reduce the workload for your service employees.  
No more answering the same questions over and over again
A lot of your service team's time is taken up by answering the same questions again and again, looking up customer information, or trying to find data in your system. That's tedious and tiring, and it also doesn't leave your team much time to deal with complex customer queries.  
At the same times, these are exactly the types of tasks at which chatbots exceed. They are extremely efficient at answering frequently asked questions, finding relevant data very fast, and accessing information in a company's system. 
Chatbots also draw customers into personal conversations. As a result, they're having a better customer experience and start building loyalty to your brand.  
Customer service chatbots can:  
Be

available 24/7

.

 

Speak

a lot of languages

, so they can help customers around the globe. 

 

Answer up to 69 percent of frequent customer queries successfully

.

 

Be

quick or patient

, depending on the customer's needs. 

 

Improve purchase conversations

.

 

Increase

brand loyalty

.

 
Recent data also shows that, customers have a positive response to chatbots. 
80 percent of 

customers

 have a 

positive experience

with chatbots. 

22 percent of shoppers 

trust

chatbot recommendations for purchasing a product.

Using a high-quality chatbot leads to a more 

engaged audience

, with 

80 to 90 percent response rates

. And even the worst experiences still reach response rates between 35 and 40 percent.

 
Overall, customer service chatbots will make your customer service more efficient, improve the customer experience, and increase your revenue. So, how can you get the most out of them? The following tips can help you to improve your customer service chatbots.  
Four ways to use chatbots to improve your customer service
If you are ready to add chatbots to your customer service strategy, the following tips can help you to improve the overall user experience and get the most out of the technology for your business.  
Connect your chatbots with your internal data systems for faster service
In a recent survey among customer service employees, 39 percent of respondents said that their biggest issues were finding answers and keeping up with changed information in different systems. On the other end, it's equally frustrating for clients to repeat the same information multiple times or having to wait until a customer service agent finds their data.  
If you want your chatbots to really improve your customer service, you need to make sure that the bots can access stored data and tap into information about a customer's preferences very fast. It'll make it so much speedier for your customers to get an answer to their question or reach a resolution. Ensuring a smooth conversation between your customer service bots and your clients will vastly improve the user experience with your brand.   
Use your chatbot's skills for a more personalized customer experience
You can boost a customer's experience even more if you are able to personalize it.
According to research from the Boston Consulting Group, companies that implement personalized experiences can quadruple the revenue lift they receive from their personalization initiatives.   
Chatbots can be a great tool for personalizing the customer service experience. 
For example, if you connect them to your CRM, they can easily access the data they need to provide the customer with a personal experience, such as giving individual recommendations.
Scale your support by offering 24/7 service in multiple languages
High-quality chatbots give you the unique opportunity to scale your customer service at a minimal cost. Chatbots never get tired, they don't get sick, and they never need to take a vacation. Use that to offer your customers a 24/7 customer support, so they can get help fast, whenever they need it.  
Around-the-clock customer support also allows you to scale your service, and offer help globally, no matter where your different branches might be located. By using a chatbot for this service, it will also help you to cut down on expensive call center costs. 
You can even scale this further by offering customer service in multiple languages. AI-based chatbots that use natural language processing can offer customer support in over 100 languages, and thus help your customers around the world.  
Give your bot a personality
It's important to let your customers know that they are interacting with a chatbot, so they don' have any wrong expectations. At the same time, customers prefer a human-like conversation, even when talking to a bot.  
You can achieve that by giving your bot a personality. Using a conversational AI chatbot, you can use language to breathe life into your chatbot. You can:  
Give your chatbot a name, instead of just calling it a virtual assistant.

Create an alter-ego for your bot and think about the "human" qualities your bot should have that would correspond with that alter-ego (being humorous, polite, efficient).

Provide them with a specific tone of voice, depending on the business context (casual, laid-back, formal, etc.). 

Let your bot speak different languages (for instance, in countries where multiple languages are spoken).
Obviously, the bot's personality should match your brand and your customers—and the bot should still be able to help your customers efficiently.  
Important! 
Chatbots should be able to understand the emotions of your customers and empathize with them! After all, emotions drive human decisions. If your clients feel connected to your bot, they will have a better experience, be easier convinced, and be more forgiving and patient if your bot makes a mistake. 
How companies are boosting their customer service with chatbots
Companies that have started using chatbots for their customer service are already reeking the benefits. And their use cases show how versatile chatbots can be in customer service.  
When your customer service team has to handle numerous incoming queries, a first-level support bot can greatly reduce their workload. This is what Discover EU experienced when they implemented a service chatbot from Chatlayer by Sinch.  
Discover EU is an initiative led by the European Commission that helps 18-year-old EU citizens discover Europe by train. As many of these young Europeans are first-time travelers, they naturally find themselves in many situations where they require help on their trips.  
After launching the initiative, frequent questions, such as: "What do I do if I missed my train?" or "Where does my train leave from?" ultimately were becoming challenging to handle by the staff of support agents during traditional office hours and across different time zones. As a solution, a Chatlayer chatbot was developed to answer the travelers' most common questions, which ended up helping thousands of young European explorers on their journeys.  
Basic chatbots can also go beyond customer service support, and help your sales team to qualify leads, while at the same time reducing the workload for your service team. 
With some initial questions, it is easy for chatbots to find out what a customer wants. Do they have a complaint about the product? Then, they'll direct the customer to the service team. Do they have a question about a product they want to buy? In that case, it makes more sense to forward these leads to your sales team. 
It's actually a very simple solution that solves a lot of problems. 
Customers get the most adequate help.

The customer service team doesn't have to handle incoming queries that concern a different department. 

Your sales team automatically gets qualified leads.

 
The women's sports clothing company, Women's Best, for instance, uses a bot to pre-qualify leads, and if an interested customer is detected, they are smoothly passed on to a sales rep, which also makes for a really smooth customer experience.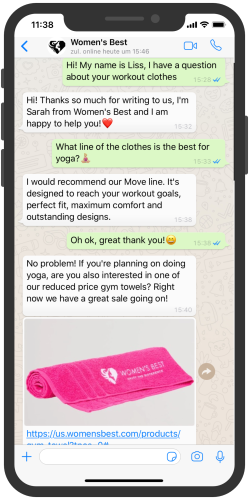 Guide customers through online processes
There are a lot of online processes, such as booking a table at a restaurant or making an online payment that chatbots are able to guide your customers through. This ensures fast help and 24/7 customer support.  
Especially AI-based chatbots that use high-quality NLP training, like the chatbots designed by Chatlayer, are a good choice because they are able to engage in more complex dialogues with your customers. 
The Brazilian food delivery giant, iFood, for example, used Chatlayer's conversational AI chatbot to lead an online onboarding process for new delivery drivers, and answer their most frequent questions. Through the automation, iFood was able to achieve a 91 percent satisfaction rate in
Companies are slowly recognizing that authentic conversations are the key to the customer's heart. 
This requires talking to them on a one-on-one basis, listening to their concerns and wishes, and solving their issues in an efficient manner. Conversational AI chatbots can be a great first approach to a more engaged conversation. 
Bots are very good at gathering data, and if the conversational design is of high-quality, the bots will also be able to have a natural flow of conversation with a client and understand their needs. This can greatly improve the customer service experience, and the image of your brand. 
Foyer, a leading insurance and wealth management company, for example, was able to boost its customer service with a Chatlayer bot. The bot was not only able to handle requests 24/7, but also increased user satisfaction with personalized messaging.
How to get started with your first customer service chatbot (no coding skills needed!)
If you want to get all the benefits from using a customer service chatbot for your business, but are afraid that you don't have the technical expertise you need to get started, Chatlayer is here to help.
As an industry leader, Chatlayer offers a distinctive conversational AI experience for your business. Our in-house Conversational AI platform:
uses proprietary AI and NLP algorithms, written and maintained by a dedicated team of Ph.D. researchers,

offers over 125 languages, out of the box,

supports chatbots on virtually every channel,

easily integrates with external systems, such as CRM, and even
And the best part is: our chatbots don't require any coding skill to be set up. You can start building instantly with our easy-to-use industry templates, so your Customer Service AI can be up and running in no time. You're free to build yourself, together with us, or to let our experts do it for you – tailored to your industry and with your tone of voice.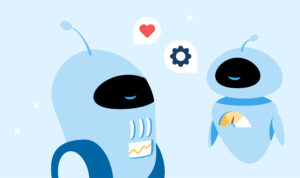 Chatbots
We've all had them: bad chatbot experiences. But, what can you do as a company to avoid
Read More »