How widespread is the use of chatbots in Belgium, the Netherlands, and Luxembourg? What are the most popular use cases, and what are the biggest expectations and concerns? We take a look at the current state of chatbots in Benelux.
Artificial intelligence (AI) can mitigate climate change. It can make dangerous industrial processes safer. And it can even help treat diseases. It's hard to ignore the tremendous potential of AI for our society and economy. And with their easy integration and benefits in automation, AI chatbots are at the forefront of this development. But how does this potential translate into everyday practice?
How are companies using AI and chatbots? Where do they see the most potential? In the following, we take a closer look at three key European markets—Belgium, the Netherlands, and Luxembourg—and explore use cases and chatbot trends in Benelux.
In this article, you will read:
Market view: chatbots in the Benelux region
AI and chatbots are still an emerging technology in the European Union. According to the European Commission, an average of seven percent of companies with ten or more employees in the EU use AI technology.  
The Benelux region is on par with the European average. In Belgium, seven percent of companies use AI, and in Luxembourg and in the Netherlands it's six percent. 
AI and chatbot market in Belgium and Luxembourg
According to a current industry report that surveyed 277 European businesses, companies in Belgium and Luxembourg are actively looking at expanding their AI capabilities.
AI technologies are regarded at least as, if not more important, than other digital processes. The majority of companies expect AI and chatbots to have an impact on their business.
Find out how Benelux companies are using AI chatbots successfully to grow their business.
Market maturity and use cases in Belgium and Luxembourg
Companies in Belgium and Luxembourg believe that AI will play the largest roles in improving maintenance through predictions (76 percent), automizing processes (62 percent), and delivering new insights (62 percent). Overall, 76 percent of companies are running pilots or have released some form of AI application, which shows a growing maturity of the market.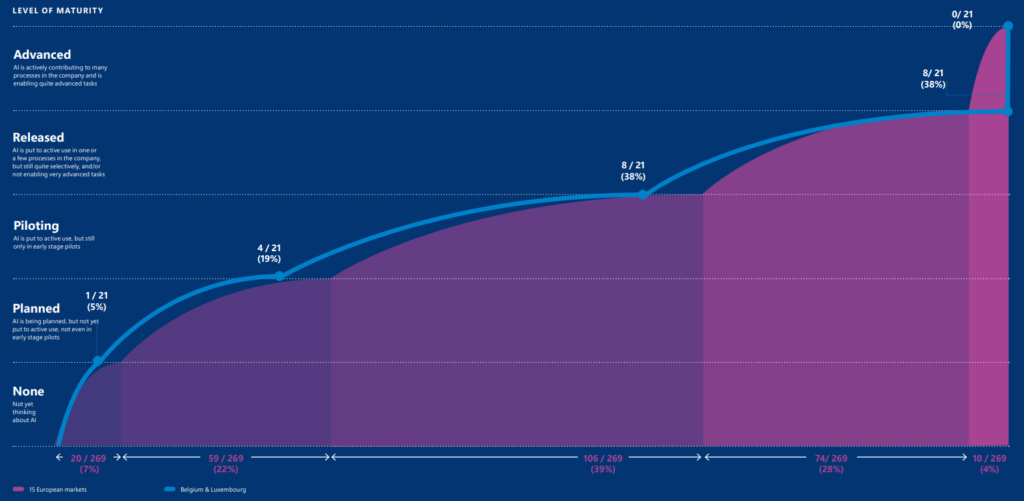 Interestingly, the main push towards the implementation of AI technology comes from the businesses themselves, and not from the IT industry.
Currently, companies in Belgium and Luxembourg see the most promising use cases for AI in machine learning (81 percent), smart robotics (62 percent), and Natural Language Processing (48 percent). The heaviest usage of AI and AI-based chatbots is in IT, Technology and Digital (52 percent) and in Research and Development (43 percent).
Expectations and concerns
There are also some expectations and concerns around AI and chatbots. Most companies expect AI technologies to optimize operations (86 percent), engage customers more (71 percent), and free up time for employees (62 percent).
The biggest concern around AI technology is to balance the employees' fears of being replaced by bots with the reality of benefits, such as freeing up time. That's why it's so important to not only think about the technical, but also the social integration of AI, says Proximus, a Belgian telecommunication company Proximus and AI pioneer.
Can humans and bots work together?
AI and chatbot market in the Netherlands
In Western Europe, the Netherlands are considered to be the largest and one of the fastest-growing digital economies. In the past decade, over 43 million US dollars were invested in AI start-ups, and companies attach great importance to AI and chatbots. Most companies believe that AI will have a large impact on their business in the future, with some even fearing that they won't be able to keep up fast enough with the technological advances.
Market maturity and ues cases in the Netherlands
With 45 percent of companies having launched AI pilots, and 37 percent of companies with already released or advanced AI projects, the Dutch AI and chatbot market is one of the most mature in Europe. 73 percent of executives consider AI an important area of growth for their company in the future.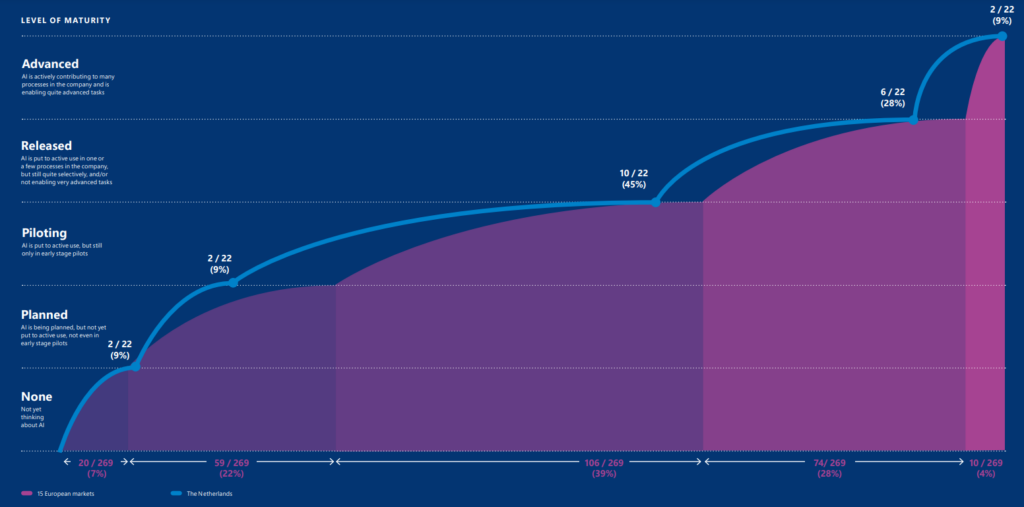 Currently, businesses see the most useful cases for AI in the Netherlands in machine learning (73 percent), neural networks (59 percent) and text analysis (45 percent). And similar to Belgium and Luxembourg, the technology is mostly applied in IT, Technology and Digital (50 percent) and Research and Development (49 percent).
Prediction (68 percent), generating insights (68 percent), and automation (64 percent) are considered the most significant uses of AI in the Netherlands.
One of the most interesting aspects about the Dutch AI and chatbot market is that, unlike in many other European countries, it is a more balanced give and take between companies that see the business need for AI and the IT industry that pushes the technology. This shows a more established cooperation between businesses and IT.
Expectations and concerns
Dutch companies expect AI to mainly help them optimize their operations (86 percent), for example through predictive maintenance or by optimizing working hours for employees. 82 percent of businesses also expect AI to transform products and services. And 73 percent hope to improve customer engagement, especially with AI driven chatbots.  
The biggest concerns for Dutch companies are unclear regulations and guidelines around AI technology.  
Chatbot expertise in Benelux
When it comes to AI professionals in the Benelu regionx, there is still a lot of potential. According to the OECD, in 2022, only 1.1 percent of Belgium's professionals are AI specialists. In Luxembourg this number is even lower with only 0.2 percent AI professionals. In the Netherlands, the percentage of AI experts reaches 2.7 percent.
As a comparison, in Germany, 9.6 percent of professionals are AI experts. In the US it's 25 percent.
At the same time, Benelux countries are currently investing in building up more AI knowledge in the region. In Belgium, for example, several educational initiatives were launched in 2020. Microsoft and BeCode, for instance, opened five AI schools in the country.
Luxembourg is moving in the same direction with initiatives like the Luxembourg House of Financial Technology and a partnership with Nvidia that aims at developing training programs for students.
In the Netherlands, the strategic action for AI that was launched in 2019. It also aims at building up digital skills, from primary to higher education.
These initiatives show that Benelux countries have recognized the importance of AI technology for the future.
Summing up: AI and chatbots, a growing market in the Benelux region
Overall, the AI and chatbot market in the Benelux region is starting to mature, as more businesses are implementing solutions like virtual assistants and AI chatbots. The fact that businesses consider AI as one of the most important digital fields also shows the great potential the technology holds.
While there are some concerns about the perception of the new technology, there is also an awareness of the advantages for businesses and employees. It will be interesting to see how the market develops as more companies, employees, and consumers will start to experience these benefits in their everyday lives.
Get ahead of the curve
Start integrating AI chatbots into your business
More interesting articles about chatbots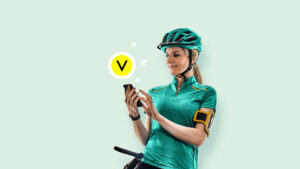 Business
Growing fast is something that most businesses aim for. However, this also comes with some challenges. That's
Read More »