While the e-bike market is booming in Europe; providers are struggling to keep up with the increased demand. How can they deal with a growing customer base, while at the same time providing high-quality service? With chatbots! Read how several European e-bike providers use chatbots to improve their customer service and grow their business.
E-bikes are booming in Europe! The electrically pedal-assisted bikes, that were considered a novelty only a few years ago, have now become a favorite in urban transportation throughout European cities. This offers new opportunities for e-bike providers, but also challenges in trying to meet the heightened demand. The solution? Chatbots!
In this article, you will read:
In some countries e-bikes are more popular than cars
The global market size is currently valued at 26.73 billion US dollars and is expected to reach 53.53 billion by 2027.
One big driver for the growing popularity of e-bikes in Europe has been the Covid-19 pandemic. For many, e-bikes presented a safer alternative to public transportation. At the same time, e-bikes were already in high demand before the pandemic.
They provide a fast, fun, convenient and green way to get around the city. Consumers love e-bikes, and this is something that can be seen throughout all European markets.
In Sweden and Denmark, e-bikes have reached almost 20 percent of the market share, and in Belgium, e-bike sales now make out more than 50 percent of all bikes sold in the country.
The Netherlands have seen e-bike sales increase by 30 percent in 2020 to a record number of 547,000 sold units. Similarly, Spain's e-bike sales have reached record numbers both in 2020 and 2021.
Germany remains one of the top e-bike markets in Europe, with two million sold e-bikes in 2021. And in France, more people have taken up using bikes than cars!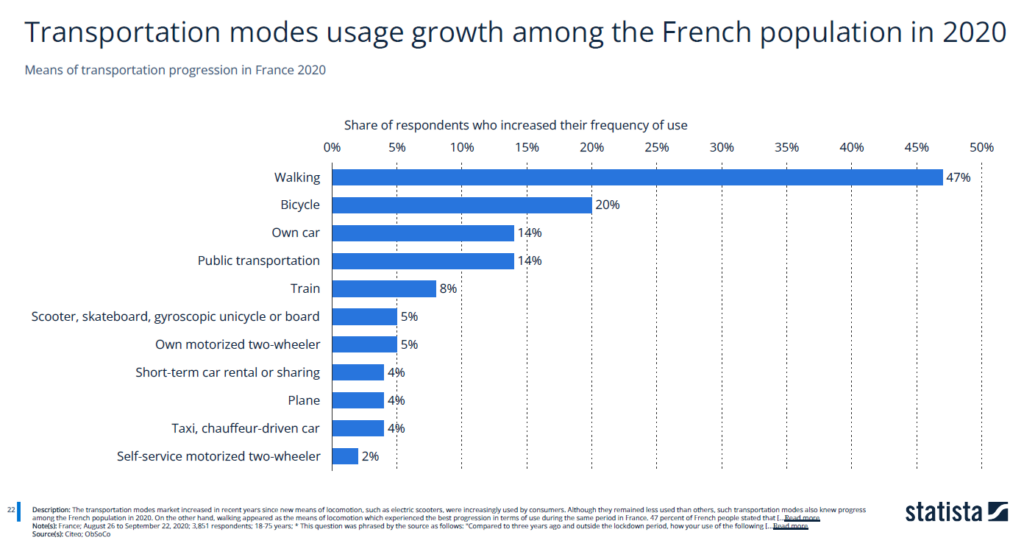 Growing pains for e-bike providers: chatbots can help!
While e-bike businesses are growing with the increased demand, they also face new problems.
Due to issues in the supply chain and higher demand, there is currently a shortage of parts. As a result, some providers have started to move production from Asia to Europe.
In addition, as e-bikes become more popular, e-bike providers also have to deal with a growing number of customers.
Customer service agents receive many queries, from "What is the best e-bike model for me?" to "When can I expect my new bike to be delivered?" to "I need help with a broken part." These have to be handled fast and efficiently, and many times also in multiple languages, depending on the market.
In addition, some e-bike companies both sell and rent e-bikes, so customer care teams also need to handle questions about bike rentals. As an additional challenge, these questions might come in at any time, and customers expect fast answers. That's where chatbots can help!
answer up to 80 percent of frequently asked questions successfully
save customer care teams up to 40 hours per month
reduce service costs by as much as 30 percent!
Chatbots also work on pretty much any channel, from your own app to a messaging service to voice, so they are easy to integrate into your existing customer service.
Large European e-bike providers, such as BizBike or VanMoof and start-ups like GOMEEP alike have already started implementing customer service chatbots—and have seen impressive results!
How e-bike providers use chatbots to grow their business
BizBike: e-bike chatbot improved customer satisfaction
BizBike is Belgium's largest e-bike provider. With 100,000 bikes on the road, the company gets many queries, from testing a bike to scheduling a repair or maintenance visit. Handling all these queries fast, efficiently and to the customers' full satisfaction became increasingly difficult for BizBike's agents.
As a solution, the e-bike provider decided to fully automate simple questions by implementing a chatbot from Chatlayer by Sinch in their app.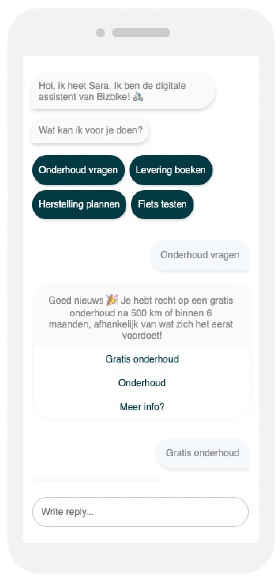 The chatbot was not only able to manage about a third of all interventions, but it also improved the quality of the customer service. With the Chatlayer bot, BizBike increased its net promoter score (NPS) from 54 to 56, which means that 62 percent of their customers actively recommend BizBike. 
VanMoof: conversation AI chatbot for better customer experience
The Dutch e-bike brand VanMoof is known for their high-quality commuter bikes with several connected features, such as the VanMoof app or the theft-protection software. For their online customer service channels, VanMoof was looking to provide an equally smooth experience.
Together with Chatlayer by Sinch, VanMoof implemented a conversational AI chatbot named Boost, that answers customer questions in three languages. Due to the conversation design of the bot, Boost can interact with users in a very natural way, while still providing helpful answers.
Customers, thus, not only receive quick help, but they also have a positive interaction with the bot, which improves the overall customer experience with the brand. Cleverly, at the end of a helpful interaction with the bot, Boost also offers users the possibility to leave a review, which helps generate favorable feedback around the brand.
In addition, with the AI-based bot, VanMoof was able to reduce their ticketing by 50 percent, and reduce the workload for employees.
GOMEEP and ROSE Bikes: WhatsApp chatbot
The Spanish e-bike start-up GOMEEP, implemented a chatbot on their most popular customer service channel, WhatsApp. Here, the e-bike chatbot answers common questions around GOMEEP's offers.  
According to CEO and co-founder George Parker, the bot had tangible effects on growing GOMEEP's business. With the WhatsApp bot, the company was able to keep acquisition costs low, while increasing conversions.
This is also an experience the German bike company ROSE Bikes has had. The company also offers customer support on WhatsApp, which really boosted their sales.
How to implement a chatbot for your e-bike business
Chatbots can have a real impact on your e-bike business, as they are able to take over many common questions and help your customers faster.
In the end, your customers are happier, your employees can focus on the most important and complex queries, and you'll cut costs and increase revenue.
And getting started with a chatbot is really easy! Chatlayer by Sinch has developed an industry-specific chatbot for e-bike providers that doesn't take a lot of effort to set up and requires no coding skills.
More interesting articles about chatbots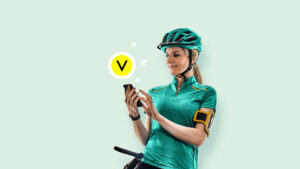 Business
Growing fast is something that most businesses aim for. However, this also comes with some challenges. That's
Read More »