What are the biggest chatbot trends for 2022? What do businesses need to know right now about conversational AI, virtual assistants and chatbots? This year's European Chatbot and Conversational AI Summit provided many great insights into past learnings, current developments, and future trends. We summarize the five most important key takeaways that can really help your business.  
In the past few years, companies, governments, and private consumers alike have embraced chatbots as tools that can help them solve problems, make their lives easier, and save time. Now, when it comes to chatbots, the conversation has shifted from "Should we use chatbots?" to "How can we make our chatbots even better?".
Chatbot trends 2022: Experts discuss learnings, insights, and predictions
It's therefore not surprising that when developers, brands, and scientists came together at this year's European Chatbot and Conversational AI Summit, this was exactly what they focused on. How can we make chatbots more user-friendly? What role does data play in improving virtual assistants? And: how can human-bot-conversations become more natural? These were the questions that were discussed in several panels, from which we have taken the five most interesting insights, findings, and chatbot trends for 2022 that can really help your business take your chatbot to the next level.
1. You need to talk more for your chatbots to become more user-friendly
Who is responsible for creating a chatbot for a company? The tech team, right? Wrong! It actually takes multiple departments in a company to come together to design a high-quality bot. While designers bring their technical expertise to the table, creative and sales departments contribute crucial knowledge about customers. As Kane Simms, founder of the conversation design company VUX World points out: Creating successful conversations between bots and humans requires collaborative and interdisciplinary work of both, tech teams and creative conversation design teams. Putting these different pieces of information together is what creates a high-quality and user-friendly bot.
2. Chatbots have to talk with users, not to them
One of the other important chatbot trends for 2022 is that chatbots have to become more intuitive and more conversational in order for companies and customers to really benefit from them.  
This is something many experts and companies stressed repeatedly at the European Chatbot and Conversational AI Summit 2022.  
Christopher Esslinger from the AI start-up VUI.agency, for instance, pointed out that chatbots should start to move away from FAQ-style conversations.  
Approaching customers in the beginning of a conversation with a set of questions and answers feels more like a bot is talking to a person, and not with them. This is a fine, but very important difference when it comes to a conversation because talking with a customer implies a conversation at eye-level, which is more pleasant for the customers, and also increases their trust in the bot.  
3. Move away from neutral chatbots to charismatic chatbots
For a long time, businesses were told that their chatbots and virtual assistants should be neutral. Turns out: a lot of customers didn't care too much for them. Lesson learned! And as many experts therefore pointed out at the summit: designing charismatic chatbots with positive personalities is very important to a better human-bot-interaction. Customers perceive a charismatic personality as helpful, alert, and interested, which creates a far more positive response to chatbots. Making sure that you focus on a positive personality when designing a bot for your company will therefore greatly improve your customers' experience.
🗣️ Download this IDC Whitepaper and learn how you can leverage your conversations for digital customer engagement! 
4. Yes, there is such a thing as too much data for chatbots
One of the common assumptions when designing a chatbot is: the more data they have, the better they will work. After several years of trials and experience, however, many companies and designers at the European Chatbot and Conversational AI Summit pointed out that this is not necessarily true. Sylvain Perron, co-founder and CEO of Botpress stressed that it is actually far more valuable to have the right data, instead of just blindly gathering information that can overwhelm the bot and slow it down. For instance, when you notice that the flow of human-bot-conversations with your customers is often interrupted, it might be more helpful to focus on improving the quality of the data you use, rather than adding more. Build on the experiences you have already gathered and try to adapt existing processes. This will improve the quality of the conversations faster.
5. Chatbot trends: Voice and chatbots are not created equal
If you ever tried to take your chatbot and turn it into a voice bot or vice versa, you probably have noticed that this didn't really work very well. That's not surprising! Text and voice are inherently different, and you should keep that in mind when creating different types of bots. Or, as Greg Bennett, Director of Conversation Design at Salesforce said at the summit: "Not all conversations are created equal."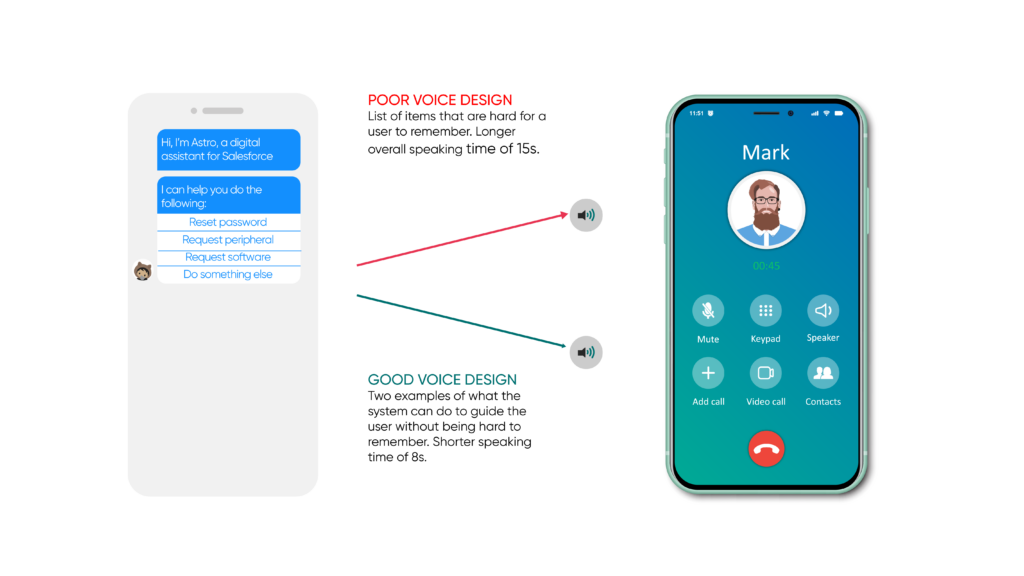 For example, people expect short pauses when communicating with a bot on a chat interface. Nobody gets upset if a bot takes a few moments to answer. However, when customers talk to a voice assistant a longer pause in the conversation can be perceived as confusion, unfriendliness, or aggression, and should therefore be addressed. Instead of just being silent while processing data, the voice assistant could say, for example, "let me check your information, I will be right back." This is more similar to how human agents act, and also lets the customer know why there is a break in conversation. Another key difference between voice and chatbots is that people process sound differently than text. People are better at retaining larger amounts of information when they read it. If they are just listening, however, information has to be broken down more and repeated more frequently. There are also aspects, such as accents and dialects, that need to be considered for voice assistants. So, when creating different types of bots for your customers, make sure that you consider the different types of communications as well.
🤖  Where is the future of chatbots headed? Chatlayer CPO Joachim Jonkers and MessengerPeople's Katha Kremming talk about personalization, AI and the superpower of bots.  
Chatbot trends 2022: Key insights for your business
The European Chatbot and Conversational AI Summit 2022 made one thing very clear: chatbots are here to stay and evolve. The more we work and interact with bots, the more we will learn about the technology.
And it's actually the mistakes and obstacles we face in that process that help us understand how to make bots better, for customers and for companies.
This is an encouraging message for businesses because it also means that you shouldn't be afraid to implement chatbots, if you keep a few key aspects in mind:
Involve creative and tech team in the design process
Make chatbots more conversational
Add charisma to your bots
When it comes to data, focus on quality rather than quantity
Differentiate between oral and written communication
Using these insights from the European Chatbot and Conversational AI Summit will help you design high-quality and user-friendly bots that will help you and your customers even more in the future.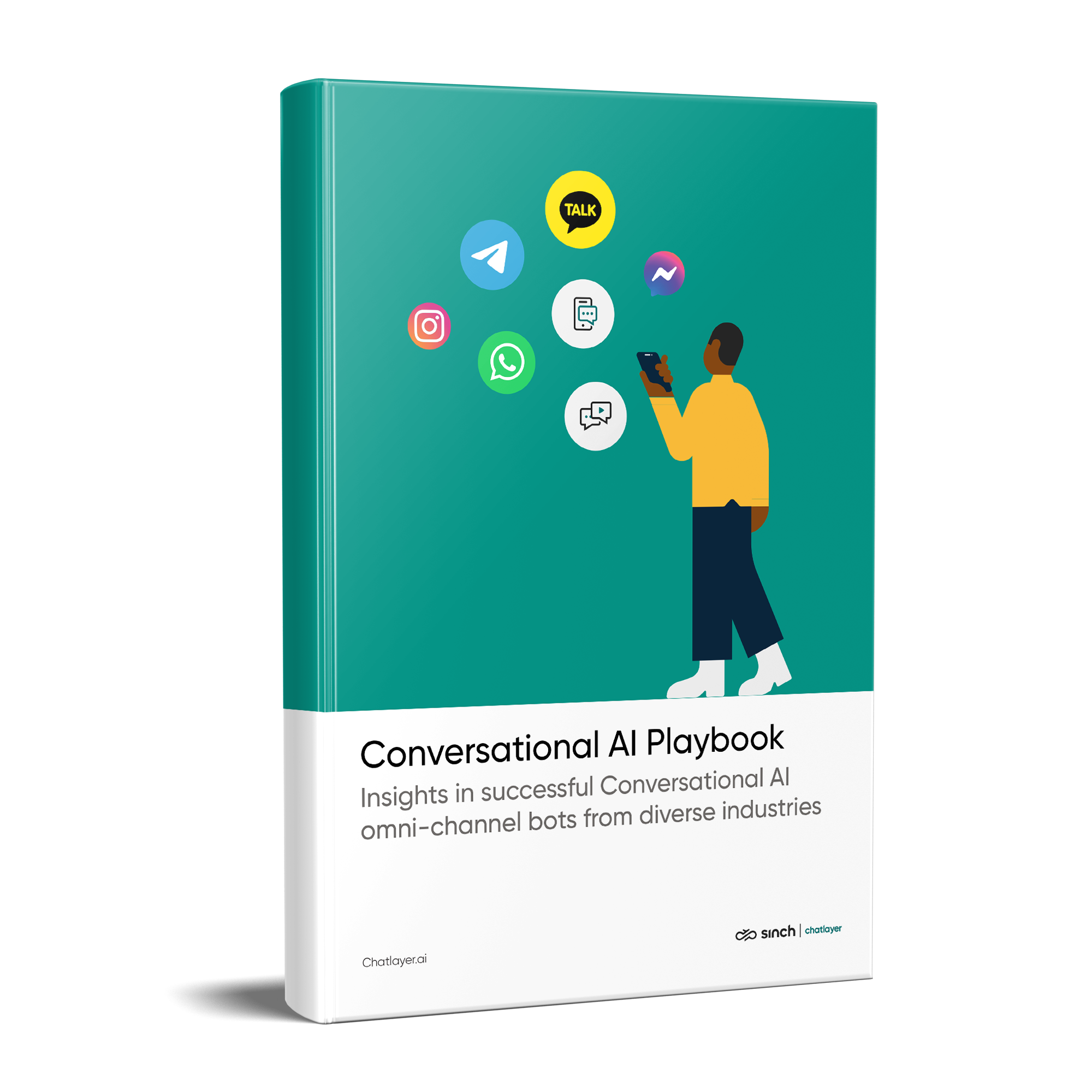 Insights in successful Conversational AI omni-channel bots from different industries - all in one!