AI chatbots in customer service can significantly help grow your business. Data shows that companies that use AI-driven chatbots in their customer care increase customer satisfaction and also drive sales. In the following, we explain why that is, how it can affect your business, and show examples of successful companies and organizations.  
The other day, I was ready to throw a rock at my computer screen. At that point, I was two days, four hours, and two agents into a conversation with my cell phone provider, trying to activate a new SIM card. The experience was not only frustrating for me, but also for the agents. What happened? 
In my first call, the service agent and I realized that I needed to upgrade my SIM card. In the second call, a different agent was trying to activate the new card. Neither one of these issues are particularly complex or time-consuming. However, it turned out that the agents had no automated support and could not access any of my previous information.  
As a result, the whole process took hours (instead of minutes), and the experience was so discouraging that instead of upgrading my phone plan, which might have taken another hour, I was just happy to be done.  
The reason I am sharing this story, is because—even if it was a very frustrating experience for me—it's unfortunately not uncommon. Most people have had at least one very similar customer service interaction. At the end of these exchanges, customers, and agents are exhausted, while the reputation and the revenue of the company suffer. What can companies do to improve this? Use AI-based chatbots!  
In this article, you will read:
Don't underestimate the role of customer service
83 percent of companies believe that customer service is vital for their business. It's easy to understand why.  
First, retaining existing customers is much cheaper than gaining new ones, as repeat customers tend to spend 300 percent more with your brand than new customers.  
Second, the customer lifetime value is also higher: happy customers bring up to 2.6 times more revenue to your business than unhappy ones.  
In addition, it will make your business stand out more. In today's highly competitive markets, one of the few distinguishing qualities for brands is their customer service. It doesn't only increase customer loyalty; it can also entice customers to recommend your brand and recruit new customers. 
But how can you guarantee good and fast customer service that will satisfy your customers? It's actually not that easy.  
Challenges of delivering great customer service
Customers expect immediate help 24/7 on any channel, which can be very challenging for customer service teams. Making sure your customers receive help right away also requires a lot of resources, such as staff, time, and money.  
Most companies are familiar with these challenges. And while data shows that good customer service can improve the revenue of a company, that's only half the truth. The other half is that improving customer service can also be very costly, to a point where it's not worth investing in it.  
An MIT Sloan Management Review found that "despite increased revenue from more satisfied customers, customer service costs increased by ten percent as a result, which overwhelmed any benefit from increased sales."  
That's where chatbots come in. Chatbots can offer your customer service the help it needs, without cutting into your revenue. 
Why you should use AI chatbots in customer service
When thinking about improving your customer service with the help of bots, it's important to think beyond basic chatbots.  
While these rule-based bots can be a help for some customer service situations, "button bots" are also very limited in their conversational skills. They can help your team pre-qualify leads, understand in general what a customer is looking for, and answer some basic questions. 
However, it's smart AI-based chatbots that can really make a difference for your customers, your team, and ultimately, your business.  
High-quality AI chatbots use technologies, such as natural language processing (NLP) and conversation design to enable smoother, more fluent conversations with customers in multiple languages. The results are impressive!  
AI chatbots in customer service will help grow your business
There are several good reasons for that. AI chatbots in customer service can:  
Increase sales

on average by 67 percent

 

Help your customers 24/7 in over 100 languages

 

Deliver a large return on investment for minimal effort

 

Find out what customers want, before guiding them to the right department

 

Talk to customers on virtually any channel, from your website to WhatsApp to SMS

 

Solve complaints much faster and process more requests

 

Reduce customer service costs by 30 percent

 

Save companies up to US$ 300,000 per year 

Double your conversions

 
Automation leads to happier customers
"Consumers are ready for new ways of conversation."
Even though the advantages of chatbots for businesses are clear, some companies still hesitate to implement chatbots because they fear their customers might not like them. Surveys show, however, that the opposite is true: customers really appreciate chatbots.  
According to an Uberall survey, 80 percent of

customers

have a positive experience with chatbots. 

 

Data from Cognizant shows that almost a quarter (22 percent) of shoppers

trust

chatbot recommendations for purchasing a product.

 

Marketing expert Matthew Howells-Barby has found that high-quality AI chatbots in customer service lead to a more

engaged audience

, with 80 to 90 percent response rates. According to him, even the worst experiences still reach response rates between
AI chatbots in customer care will improve the customer experience—and your bottom line
Implementing an AI chatbot in your customer service will drastically improve the customer experience, in more than one way.  
1. Faster service
What is one of the biggest expectations for customers when they have an issue? Fast and effective help! 
AI chatbots can provide just that! Chatbots using NLP and conversational design are very good at understanding what customers want very fast, and either answering the questions themselves, or transferring a customer to an agent.  
Bonus effect: AI-based chatbots can answer up to 69 percent of frequently asked questions satisfactorily, which means that customers get answers quickly, and your customer care agents get more time to handle more complex cases. 
2. More personalized conversations
A well-designed chatbot allows you to connect the bot to your CRM system, which means that customer data can be accessed right away. This means that customers won't have to explain their previous chat history again and again, and chatbots will also be able to use this information for a more personalized conversation (which has a higher chance to convert). 
3. Meet your customers where they are
One huge advantage of AI-based chatbots is that they can be integrated into any channel. 
This can be the live chat on your website or your company's app, but it could also be a messaging app like WhatsApp or iMessage, or even a voice bot that supports your call center agents. 
This makes your customer service not only more efficient, but also more flexible to meet the customers on their preferred channels.  
Improving your customer's experience will also have tangible effects on your business!  
Satisfied customers are more likely to return.

 

Happy customers spend more money. 

 

Customers that have had a positive experience are more likely to recommend your business to others. 

 
In addition, chatbots can also significantly reduce the workload for your customer service team and improve their satisfaction score. Instead of them answering the same questions repeatedly, or having to hunt for information, they can focus on more complex cases, which also makes their work more rewarding.  
These six companies have grown their business with AI chatbots in customer service
Growing your business with AI chatbots in customer service is not just a theoretical concept. Companies are seeing real effects, as the following examples illustrate.  
iFood is an online food ordering and delivery platform based in Brazil. It dominates about 80 percent of the Brazilian online food delivery market, and has only gotten more popular since the Covid-19 pandemic.   
With growing demand and an increasing number of deliveries, the drivers' customer service at iFood started facing new challenges. They were receiving more calls from drivers who needed assistance during their deliveries. Trying to help the drivers in a timely manner became more difficult, more time-consuming, more expensive, and came at the cost of driver satisfaction.  
In order to improve the customer service for their drivers, iFood implemented Chatlayer's Conversational AI Chatbot on most relevant messaging apps, such as WhatsApp and the website. Here, the chatbot helped register new drivers and assisted with the onboarding of new delivery staff.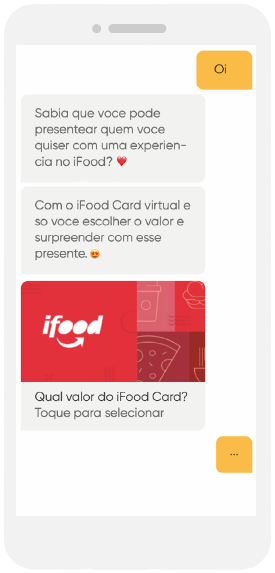 As a result, the bot was not only able to solve technical and logistical issues, but it also received a high satisfaction score of 91 percent from delivery drivers. 
European Commission: answering 700+ question
Discover EU is an initiative led by the European Commission that helps 18-year-old EU citizens discover Europe by train. As many of these young Europeans are first-time travelers, they naturally find themselves in many situations where they require help on their trips.  
After launching the initiative, frequent questions, such as: "What do I do if I missed my train?" or "Where does my train leave from?" ultimately were becoming challenging to handle by the staff of support agents during traditional office hours and across different time zones.   
As a solution, a Chatlayer chatbot was developed in order to answer the travelers' most common questions, which ended up helping thousands of young European explorers on their journeys. 
Belfius: happier employees
The Belgian insurance bank Belfius is handling thousands of insurance claims—daily! As Belfius wanted to be able to handle these claims more efficiently, and reduce the workload for their employees, they implemented Chatlayer's AI customer service chatbot.   
Belfius customers just tell the bot what happened, and the bot is then able to categorize what type of claim each case is about, before handing it over to the human agent best qualified to deal with it. With the insurance bot, Belfius can now manage more than 2,000 claims per month. This is the equivalent of five full-time agents taking the requests.   
The AI chatbot drove success by saving time and increasing the conversion rate by 87 percent, compared to the old claim forms.   
Foyer is a world-leading insurance and wealth management company. With many requests coming in 24/7 in different languages, Foyer needed an automated solution to both, help their customers and relieve their employees from constantly answering the same questions.    
With Chatlayer's conversational AI bot, Foyer was able to answer 80 percent of incoming customer requests successfully, in 125 different languages.   
Bizbike is Belgium's biggest e-bike provider. As a hugely popular e-bike company, they were faced with a high number of daily queries from customers who wanted to use their service. The problem: Bizbike's customer service team ended up answering the same basic questions over and over again and didn't have time to deal with more complex customer issues.   
So, Bizbike was looking for a way to help their service team, while at the same time answering customer questions quickly and satisfactorily. That's when Bizbike decided to implement Chatlayer's conversational AI chatbot.   
Chatlayer's bots work with easy-to-use templates that are ready to go within minutes. At the same time, businesses can adapt these templates to fit their individual needs.  
For Bizbike, the solution was highly successful. Bizbike was able to save more than 40 hours per months through effective automation, and at the same time have engaging conversations with their customers. Bizbike was able to increase their NPS score from 54 to 56, which means that 62 percent of their customers are actively promoting conversational chatbot solutions and the Bizbike service!    
Sabam: 97% of requests handled by AI chatbot
The Belgian association of authors, composers and publishers, SABAM, needed help with handling a high number of incoming customer queries. The biggest challenge for SABAM was how to answer the customers faster.  
Using the AI customer service chatbot by Chatlayer by Sinch, SABAM was able to handle 97 percent of their requests within just three minutes! Per month, the Chatlayer bot handles over 3,000 conversations.  
Getting started with an AI customer service chatbot
These examples show how AI bots in customer service can help you save time, money, and make customers and employees happier.  
In addition, the solution developed by Chatlayer by Sinch, does not require any coding skills. With industry-specific templates and an easy-to-use interface, you can set up your customer service chatbot in just a few minutes—on virtually any channel, and in over 100 languages!  
Curious? Our experts are happy to guide you through our product and answer all your questions.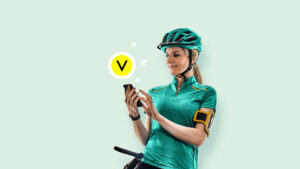 Business
Growing fast is something that most businesses aim for. However, this also comes with some challenges. That's
Read More »